Cisco recently released its Annual Security Report 2013. The report provides a pictures about the malware trends, rising security challenges that individuals, businesses and governments may face – particularly as computing moves into the mobile domain.
The report revealed that the highest concentration of online security threats do not target pornography, pharmaceutical or gambling sites as much as they do legitimate destinations visited by mass audiences, such as major search engines, retail sites and social media outlets.
Android malware grew substantially faster than any other form of web-delivered malware, an important trend given that Android is reported to hold the majority of mobile device market share worldwide.
Highlights of the Cisco Annual Security Report 2013:
Android malware encounters grew 2,577 percent over 2012. Mobile malware represents only 0.5% of total malware encounters. Android malware grew from 0.02% of total web malware encounters in Jan 2012 to 0.62% in Dec 2012
India is the top source of spam worldwide, while the U.S. moved from 6th in 2011 to 2nd position in 2012
Online advertisements are 182 times more likely to deliver malicious content than pornographic sites.
The top spoofed brands involve prescription drugs like Viagra and Cialis and luxury watches like Rolex and Omega
US topped the list of countries which encountered malware at 33.14%
Age of Privacy is over. 45% are not worried or bothered about personal data being captured.
Spammers maximize the ROI of their efforts, targeting real-world events with specific and short-lived campaigns For instance, in January-March, Windows users were targeted, coinciding with the release of the Microsoft Windows 8 whereas in February-April,  Tax software was targeted due to the U.S. tax season.
Check out the Infographic which gives you and overview of the released report.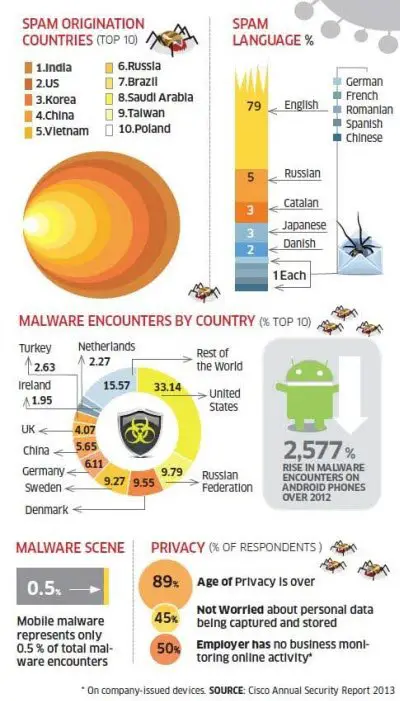 As more people, things and devices connect to the Internet, more data from more places will be introduced across corporate and service provider networks. This will open up new vulnerabilities, giving rise to a need for more sophisticated security approaches, says the report. You can download the report here.