It would be crazy to even dream that a computer can be sold at $9 but a Company called as "Next Thing" may well turn this dream into reality, come December 2015. The $9 microcomputer named as CHIP by Dave Rauchwerk is a tiny, Linux based machine capable of performing all functions that a normal PC can, like "work, play, and everything in between!"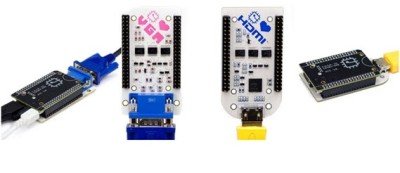 Next Thing, the $9 computer
Next Thing is already there on Kickstarter, raising funds for creating a computer that will cost just $9 (or £6). Even though the project was launched recently on Kickstarter, it has already exceeded its targeted revenue of $50,000 and is nearing $1 million with nearly 26 days still left in the fundraising campaign.
Next Thing is the same firm that launched a hackable gif camera called as OTTO last year.
So what all does the $9 Computer offer
Built on a small package to fit anybody's palm CHIP houses a 1GHz processor, 512 MB of RAM, 4 GB memory storage with built in Wifi 802.11 b/g/n and Bluetooth 4.0 to communicate with other devices on the network. Since the device runs on mainline Linux, it comes preloaded with several open source applications including LibreOffice, Chromium browser and Scratch.
The hardware design of CHIP is an open source one meaning that you can study, analyze and modify the machine for your own needs. The CHIP also supports high resolution video display with plug-in support for VGA and HDMI interface with additional price adders.
Owing a CHIP
If you are one of the backers of CHIP you can expect "Next Thing" to start rolling out the shipments in December this year. However the worldwide availability of this microcomputer is expected only in May 2016. So hurry up and register if you want to be among few buyers of this $9 Computer.
CHIP is not just alone that Next Thing intent to discover, the Californian startup is coming up with another device called as PocketChip (see image below).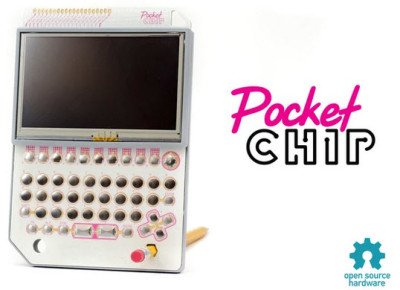 PocketChip is an advanced version of CHIP that makes the single circuit board portable. This portable device has a  4.3-inch (272×470 pixels) touchscreen with resistive touch and a QWERTY keyboard. A not so bad 5 hour battery backup along with a 3000mAh battery, with a stylish device makes PocketChip a good buy for $49. The first lot of PocketChip is expected to be shipped in May next year.