One of the most widely feared and an unpopular, unpleasant instance experienced in the online world was the discovery of Spectre. The vulnerability affected nearly every computer chip (modern processors) manufactured in the last 20 years and impacted system performance significantly. Fortunately, this tragedy was reversed by the combined efforts of security researchers. Fast forward a year; we learn Mozilla is working on a project – Firefox Fission to keep your computer safe from the nasty Meltdown and Spectre CPU security flaws.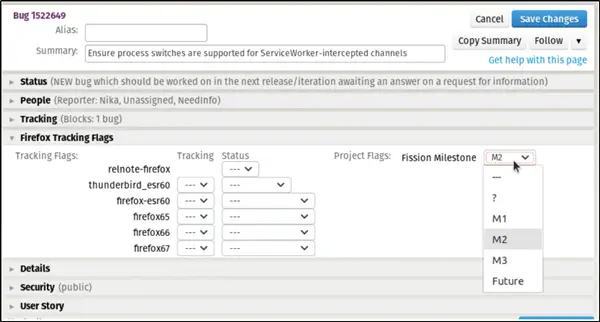 Firefox Fission will offer better security
Mozilla is aiming to build a more robust browser that would not only offer protection against known security vulnerabilities but also feature layers of built-in defense against potential future vulnerabilities. To accomplish this, the developers have already started to revamp the architecture of Firefox and support full Site Isolation.
Over the last year, we have been working to lay the groundwork for Fission, designing new infrastructure. In the coming weeks and months, we'll need help from all Firefox teams to adapt our code to a post-Fission browser architecture.

Fission is a massive project, spanning across many different teams, so keeping track of what everyone is doing is a pretty big task. While we have a weekly project meeting, which someone on your team may already be attending, we have started also using a Bugzilla project tracking flag to keep track of the work we have in progress, said Nika Layzell, a Firefox platform engineer, in a blog post.
The makers of the browser haven't yet set a deadline for the completion of the project. However, they have assured to complete the shipping of its elements in the Firefox Nightly test version when it's ready.
Spectre-style attacks are potentially dangerous as they can be used to steal highly sensitive personal information not just by exploiting web browsers but via processors too.