If you are looking for an upgrade from Windows 8 or Windows 8.1 Home to Pro versions, you unluckily are late now. As announced earlier, Microsoft has stopped selling Windows 8 and 8.1 Pro Pack and Media Pack as of October 30, 2015.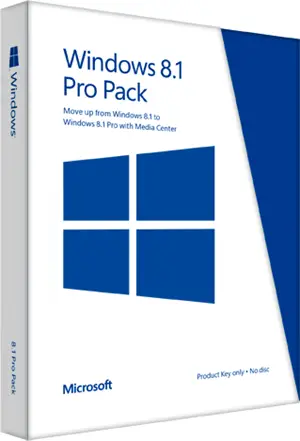 Windows 8/8.1 Pro Pack & Media Pack are no longer available to buy
Now when Windows 10 is running on more than 140 million devices and is loved by the users' worldwide, stoppage of Windows 8/8.1 upgrade packs seem to be quite normal and an obvious move by the Redmond Company. As most of the leading PC makers have already started selling their devices with pre-installed Windows 10 OS, the company seems to be sure about cessation of Window 8/8.1 Pro Versions.
While third-party retailers will still be selling the valid feature upgrade pack, Microsoft has officially announced the discontinuation. Support from Microsoft will still be available for these third-party feature packs for about next two years.
The official statement says,
"As of October 30, 2015, the Windows 8 and 8.1 Pro Pack (which upgraded Windows 8 Home or 8.1 Home to Windows 8 Pro or 8.1 Pro, with Media Center) and Media Pack (which added Media Center to Windows 8 Pro or 8.1 Pro) are no longer available for purchase from Microsoft. Previously purchased feature pack licenses will still work, and valid feature packs may still be available for purchase from third-party retailers. Support for these products is still available".
If you still want to upgrade your Windows 8/8.1 Home to pro version, Amazon is offering the Windows 8.1 Pro Pack (Win 8.1 to Win 8.1 Pro Upgrade) for $169.
Please note that you can upgrade to Pro version only if you have a device running Windows 8.1 operating system currently.