I wondered at times, if ever Outlook.com had Google Talk support, I would have switched! Not any more! Today was the day when the software giant via its Outlook Blog announced the addition of chat support for Google Talk.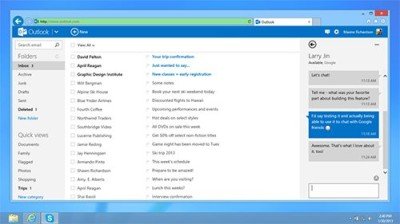 The popularity of Outlook.com has been growing steadily but it was the lack of Google Talk support in Outlook.com that prevented some users from switching to Microsoft's own email client. Surely, this new feature act should convince some more users to switch in favor of Outlook.com.
Chat with Google contacts in Outlook.com
Google Talk, will include support for GChat, voice and video calling with Google Hangouts, to Outlook.com, says the blog post. Currently, it will just support text chat. The video and voice calling feature will be rolled out later. GChat will be integrated into SkyDrive.com, which will make it easier for Microsoft users to collaborate with Gmail users.
When you will open the Messaging pane in Outlook.com or SkyDrive, you'll see a message that will help you out in setting up chat with your Google contacts. Just click it to get started.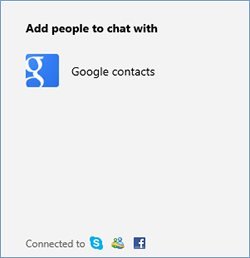 Remember, you will be passed through Google's Authorization flow process for setting up the connection. Simply hit the 'Allow Access' button to allow Microsoft's chat and contacts services to connect to Google and set up chat.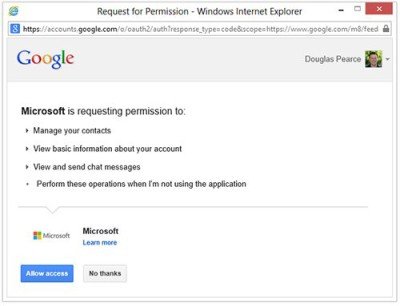 Once done, you should see your Google contacts appear in your contact list. Click on their picture and start a conversation right away from the Messaging pane. Google Talk support to Outlook.com has been rolled out to the platform and should arrive on your account in the next few days. It is possible you might notice a few quirks in he beginning but that should be resolved as soon as the roll-out gets completed.