A new app from a top-notch video service is now added to the Windows Store. Roku owners will now be able to download the free remote control on their Windows Phones and other touchscreen Windows devices. The official Roku app is now available for free download in Windows Store as well as the Windows Phone Store. Roku users can now control their Roku streaming players with this app over their home WiFi network.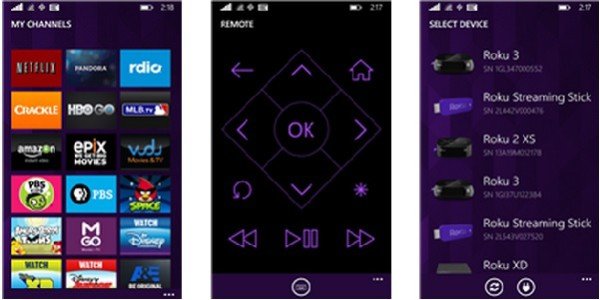 Roku App for Windows 8 & Windows Phone 8
The app supports Windows Phone 8, Windows Phone 8.1, touch-enabled Windows 8 devices and Windows RT tablets, but it is not compatible with the keyboard and mouse setups.
The official Roku app detects all your Roku devices automatically and lets you install the channels like SlingPlayer, Netflix and Hulu Plus with just a single tap. App offers an onscreen remote control for changing channels in Roku Player.
The official Roku app doesn't support the keyboard and mouse input, you will need a touch-enabled Windows device to use the app. The app also fails to support the 'Play on Roku' feature which is supported by the third party Roku solutions like 'Remote for Roku Player' which allow users to stream their personal video in media player.
Roku fans may download the official Roku app, by searching for it on the Store using their Windows 8 or Windows Phone 8 devices.