The long awaited RemoteIE tool has finally been announced by Microsoft. RemoteIE is available as a preview version via Azure RemoteApp tool where in, developers from different cross-platform operating system can download the RemoteIE client and can test the latest version of Internet Explorer on their machines.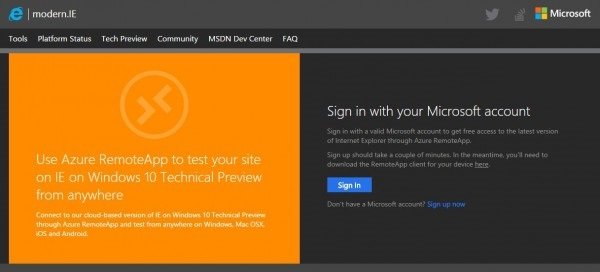 RemoteIE tool allows user to run the application on Windows 10 Technical Preview from any device like Windows, Mac OS X, Android or iOS without the need to run a new OS or VM on physical machine.
To begin with, simply navigate to RemoteIE web page and sign in with Microsoft account and then follow the instructions to download and run Azure RemoteApp client for your platform.
RemoteIE is built to test the latest version of Internet Explorer from Windows, Mac, iOS or Android device. It allows user to stream content from the Azure cloud via Azure Remote App in just few seconds. The tool is designed on Windows Server Remote Desktop Services Infrastructure which brings in Azure application with scalability and high reliability.
Technical Details for RemoteIE
IE is the only application available now with RemoteIE and includes F12 Developer tools.
To run RemoteIE, Windows Server 2012 or higher is required so no older version of Server will be able to run the application (however application compatibility can be changed from developer tools option).
A auto sign-out will take place if session goes idle for 10 minutes and will logout if session last more than 60 minutes, afterwards user have to create a new session.
RemoteIE performance on Azure Cloud will not be the same as that on the physical machine as features like GPU acceleration will not be available. User can download native VM from Modern.IE or Windows 10 Technical Preview to run the tool with great efficiency.
The tool will not be available to navigate to local sites or domains behind a firewall hence user must need to have publicly accessible IP to test the application.
There might be technical glitches, error may occur as RemoteIE and Azure RemoteApp are in preview edition.
There are many new features that Microsoft is going to roll out in future release of IE, user can download Azure RemoteApp tool to test the latest IE.