Android running devices continue to show their dominance in the smartphone world. Based on the recent smartphone OS market share coming from IDC.  Android has done impressively well, and registered 73.5% rose of their previous quarter result to jump to 79.3 % of mobile market share in the second quarter of 2013.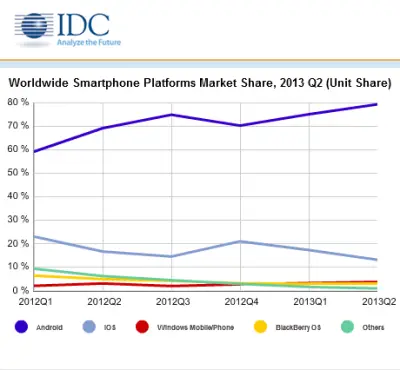 Notwithstanding their own expectations, Microsoft's Windows Phone is the only other operating system whose result has come out in green. It went ahead from its 3.1% share to 3.7%, surpassing BlackBerry to claim the third position in the process.
It wasn't like BlackBerry was sitting idle this all time, they did release BlackBerry 10 OS in January this year, but it didn't produce any earth shattering results and soon fell down to 3% from its last quarter's 5% of market share. IDC pinpoints that it is too early to evaluate BlackBerry's performance and predict about its future, they expect a growth in BB's share with time. Although, evidently the recent performance of BlackBerry has touched new low , "levels not seen in the history of IDC's mobile phone tracker.", IDC added.
Speaking of Apple, regardless of their 20% increase in shipments,  iOS is still too far behind of Google's Android, falling from 16.6% to 13.2%.
Coming to Android, last Quarter, many splendid Android running phones including Samsung Galaxy S4, HTC One and Google Play Edition of both the devices came out. Another reason of this dominance could be explained by its growth in developing nations like India. Which is perhaps why Sundar Pichai, Head of Android and Chrome in his interview at D11 this year praised Indian mobile manufacturers, especially Micromax for making elegant phones with dual SIM capabilities for so such minimal price range.
Rumor has it that Apple will be releasing a cheap iPhone at some point this year, this might spike their stats a bit, but with just Samsung shipping twice as the number of smartphones than Apple, it doesn't seem any competition at all, in terms of the quantity.