A conversation can pick any format – discussion, talk, chat or gossip. While some appear formal, others can be tête-à-tête (private conversation between two people). To make this mode of expression more effective LinkedIn is equipping its app for both devices, mobile, and Desktops with new messaging capabilities.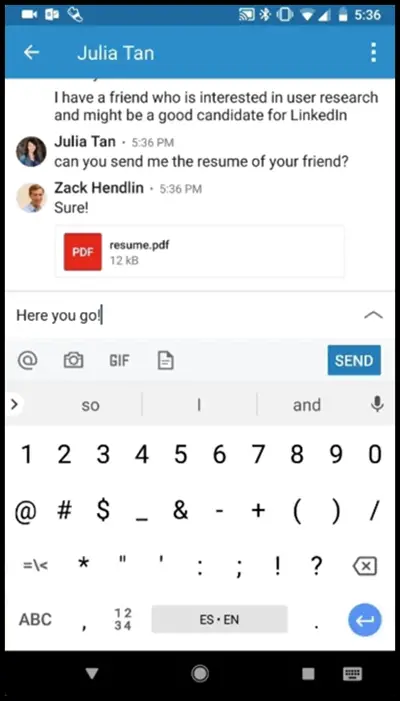 LinkedIn Messaging gets new updates
The biggest news for Desktop users, particularly windows is the ability to easily paste images from the web or screenshots directly into the chat window and share it with another person. The ability makes the process of sharing visuals much more quick and easy.
In addition to the above, there's an emoji picker built directly into the website to enable more casual conversations. Other valuable changes include,
Ability to share attachments on-the-go
Taking a cue from the hectic working schedule of its users, LinkedIn has tried to simplify the task of sending messages. It has introduced the capability of sending attachments directly from the phone via the LinkedIn app. Just tap the attachment icon to select and upload from the approved file types including PDF, DOC, XLS, and PPT.
Managing group messages
Improvement in the app makes it effortless for the LinkedIn app that makes it effortless to manage conversation groups. Beginning now, when you tap on the "+" icon to create a new message, you'll be prompted with smart suggestions for groups based on your current or former company, where you went to school or people you've recently messaged with. To exclude a member from the group simply tap on the three dots on the top right of your group message and tap on remove people.
Expand compose box to write longer messages
At any instant, the user can move out of the chat-like interface and stretch the message compose box across platforms to get some extra space to fit in his message and compose longer thoughtful formal messages. The feature currently is limited to mobile users but is likely to be rolled out for Desktop users, soon.