As administrators, we exercise complete control over our systems. For instance, we can set how the updates are delivered to our systems, settings to which updates can have access and more. This liberty, however, is restricted to an extent in Windows 10. Not anymore! A Windows official via a blog post announced that end users would have the complete ability to take full control of various features of the operating system. With the upcoming edition of Creators Update, Microsoft promises to offer more user control around privacy and installation of updates.

Windows 10 Creators Update to get more controls
From the announcement made, it is clear that while a lot of the focus is on 3D creation, gaming enhancements, and security, Microsoft has made efforts to bring change in the user experience via privacy settings and update installation process.
I am excited to share that you will have considerably more flexibility when specifying the best time to install updates on your devices. We are also making other improvements to the update deployment experience in the Creators Update. For example, downloads will have less impact on device performance while they are in progress. You should experience fewer reboots, which will reduce the likelihood that an update will be installed at an inopportune time, mentioned Michael Fortin, CVP of Windows and Devices Group Core Quality, Windows Servicing and Delivery.
The new privacy upgrade process will be available to Insiders for testing via a "quest" in the Feedback Hub. The process is, however, somewhat cumbersome since, Windows Insiders will need to roll back to the Windows 10 Anniversary Update and wait to receive a notification about the Creators Update's availability.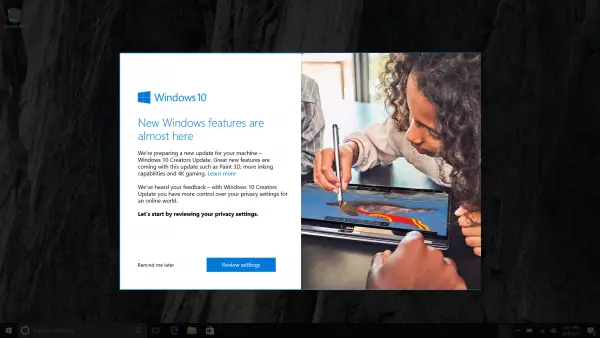 It appears Microsoft has made this change as a result of feedback from users. It will help Windows 10 assume a final shape in the coming months. Meanwhile, the company has also added a new icon to the Windows Update Settings page so you can see verify in an instant whether your device is up to date or not.
Source: Windows Blog,