If you are a Windows user, experts strongly suggest that you always to keep your Adobe Reader, Flash & Java up-to-date for quite some time. A recent and long-term examination carried out by AV-TEST proves that Java, Adobe Reader and Flash together are responsible for over 2/3rd of the vulnerabilities in Windows, which are exploited by malware. According to experts at AV-TEST, regular updating of Adobe Reader and Flash might prevent the intrusion of dangerous and harmful malware in your Windows Computer Systems.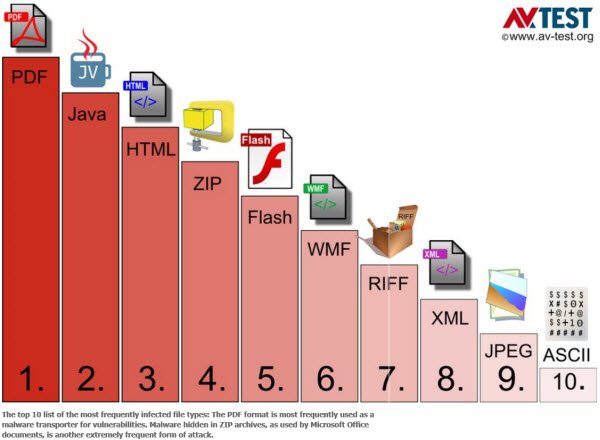 Adobe's Reader and Flash and all versions of Java are together responsible for a total of 66 percent of the vulnerabilities in Windows systems exploited by malware.
Java, Adobe Reader and Flash are responsible for the bulk of the malware vulnerabilities since year 2000 and makes Windows PC susceptible to the Trojans and other form of perilous malware. If not updated regularly, the Java software becomes vulnerable, and the invaders develop exploits which attack your Windows PC via your browsers or via infected e-mails.
The detailed and prolonged examination at AV-TEST reports that
One exploit for Adobe Reader is the top spot with nearly 37,000 different variants recorded, immediately followed by the first version of Java with over 31,000 different types of exploit. The third program in the AV-TEST ranking is Adobe Flash, for which over 20,000 specially produced attackers were recorded.
Overall, Windows users are under the threat of 82,000 exploits via different versions of Java Software which are currently installed on more than 3 billion devices worldwide.
,However, if you are using a good quality Security Suite for your Windows PC, you are probably safe from these Java triggered vulnerabilities. Moreover, the recent versions of Windows are far more secure than those had been used from year 2000-2008.
The only way to protect your Windows against such harmful exploits and invaders is to keep your operating system and installed software up-to-date and use a good security suite. Make sure that your Flash Settings and Java Settings have been configured properly. If you wish you may also uninstall or disable Java in Windows.