Windows Phone has been presumed dead, but that is not stopping developers from pushing out updates for their apps. The latest major app update comes from Adobe for its Adobe PDF app.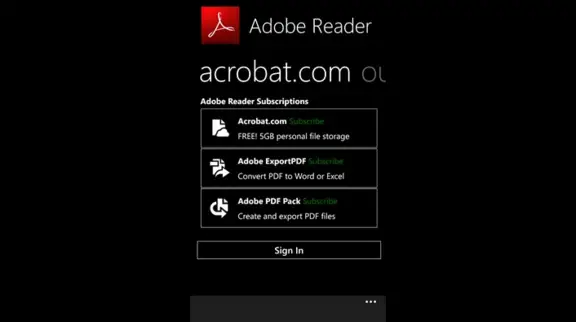 Adobe Reader app for Windows 10 Mobile updated
Updates for the Adobe PDF app is not frequent, so when it comes, folks should get a little bit excited. The new update bumps it up to version 16.0.13.7027, and it brings some significant changes. The most notable is the new user interface; it looks a lot better than before.
Probably the most interesting feature added, is the ability to "Save As" with PDF files. Furthermore, it is also possible to log into Adobe Document Cloud to gain access to Enterprise ID. From what we can tell, this update has made Adobe Reader for Windows Phone and Window 10 Mobile more attractive to business and enterprise users around the world.
Adobe Reader in its current form is one of the best options for reading PDFs on Windows Mobile 10. There are several apps that do the same, but they lack the robust functionality found in Adobe Reader. There's also an official Microsoft PDF reader in the Windows Store, but we wouldn't recommend using it.
If there is one PDF reader we would recommend over Adobe Reader, it would have to be Xodo PDF Reader & Editor. We'll be sure to give dive into this app to give an in-depth look. It is packed with features, but not as smooth as Adobe Reader.
Still, it has been a while since we used this app so things might have changed.
Download the new Adobe Reader right here.