Outlook.com already has lots of cool features such as Sweep which helps quickly delete multiple unwanted mails. And now the Outlook.com team is providing more features to keep the inbox clutter free and making it easier to see the mail that matters most so that you never miss those important mails. It has provided users with some advanced web mail rules that make managing mail much easier. Let us check what new features Outlook.com has added today:
Advanced Web Mail Rules in Outlook.com
Outlook.com has now introduced some of the most sophisticated rules in webmail providing more control over how your mails get sorted, filed or brought to top of the inbox. You can create multi-condition and multi-action rules thus making your inbox organize automatically. You can also combine with existing rules. Outlook.com has now included many optional conditions which are unique such as time constraints, email tallying, checking read/unread state of emails, checking if the sender is a contact you know. Combination of such conditions makes sophisticated rules. For example:
If an unread email is older than 3 days and is from one of your contacts, mark it as important and flag it.
So you won't miss important mails from people you know as it flags and brings it to top of inbox in case such mail remains unread for more than 3 days.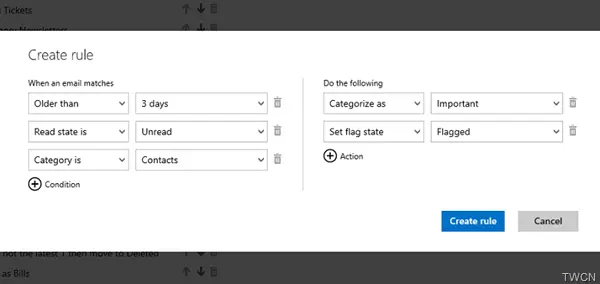 Undo
In case you made some mistake while moving your mail from one folder to another or accidentally deleted a mail, now you can Undo such mistakes very easily. Mistakes in the range of – Delete, categorize, flag, mark as junk, or move-either for a mail or a whole group can be Undone easily using the Undo button or Ctrl+z.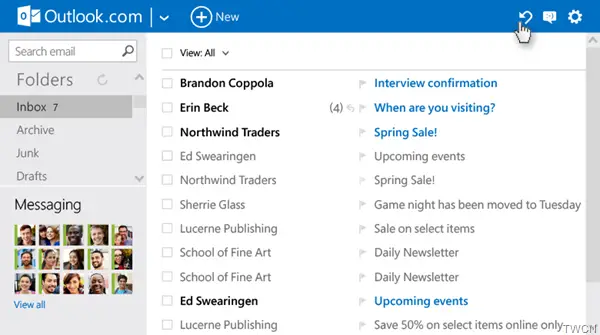 In-line reply
With in-line reply, you can directly respond to an email thread without launching a new view thus not only making it faster and saving time but also makes it easier to track conversations. They introduced this as Outlook.com users use Reply button almost 8 million times a day.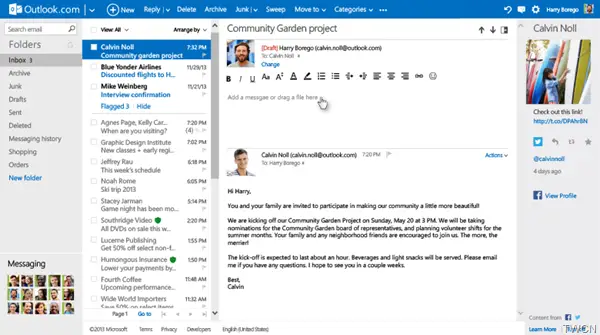 Better personal messaging experience
After receiving feedback from Outlook.com users that starting a chat session with friends wasn't as easy to find as it could be, Outlook.com team introduces several improvements:
Recent conversations and other contacts you can chat now available in the bottom left  of Inbox. Just click to launch directly into a conversation.
you can switch over from one service to another right inside the chat session, if you want to continue the talk on another service.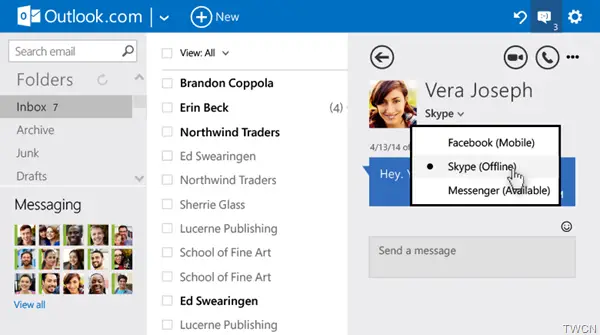 You can now filter your contacts based on what service they are using (Skype, Facebook etc.) and also can see who's currently available. Icons alongside names will tell you who's able to Video, Call or just chat.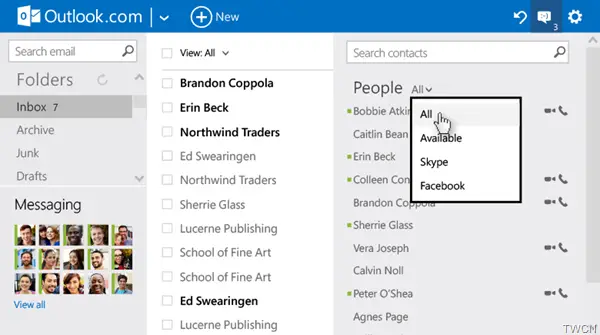 Announcing this, Mike Schackwitz, Principal Director of Program Management, Outlook.com said these improvements will be rolling out in the next few weeks, so if you don't have access to them yet, check back again soon.
Try them and provide feedback, how you like it or do you want it some other way.