Google's nascent browser has paired with one of the most popular free security programs in the world so that when users run the Avast installer on a computer that has neither Chrome nor Avast, they'll be offered a chance to install Chrome simultaneously.
This is the first such bundling for Avast in its 21-year existence.
RealPlayer also offers to install Chrome browser. RealPlayer seems to be first third-party application used to promote Google Chrome.
It appears that AdAware also offers to install the Chrome browser.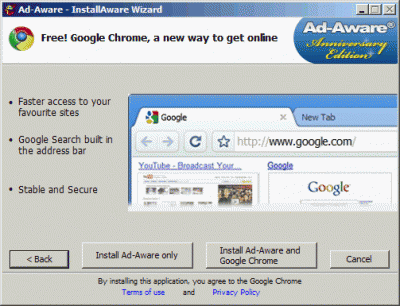 The browser has replaced Firefox in Google Pack and it's installed along with Google Earth if you're not paying attention.
A Google spokesman indicated that other deals might be in the works.