There was a time when kids in India were crazy about Amar Chitra Katha and the stories about Indian fables, mythology, history & literature that it told via its paperback comics. In fact, a whole generation grew up reading Amar Chitra Katha! So it might come as great news to some that, Microsoft and Amar Chitra Katha have launched the official Amar Chitra Katha or ACK Comics app for Windows 8. Using this app, consumers can now instantly browse, buy, download and read hundreds of old favorites as well as the latest titles from Amar Chitra Katha, on the go.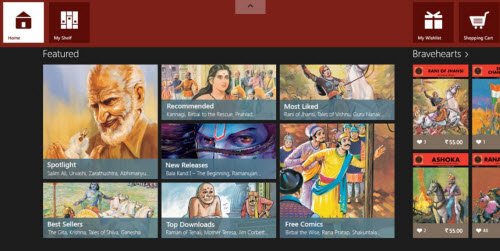 Amar Chitra Katha Windows 8 app
The app brings to life a wealth of memorable stories and immortal characters from history, mythology, folklore and literature. The app, with hundreds of Amar Chitra Katha titles in digital format is your window to India's legendary heritage.
ACK Comics app will be available exclusively on the Windows 8 platform for the first month. The Editor's Pick of five comics – Shakuntala, Birbal the Wise, Tirupati, Tenzing Norgay and Anant Pai will be available free of cost to Windows 8 users. In addition, there will be three more comic titles, again available free, even after the first month.
The free app will bring the entire library of Amar Chitra Katha titles to Windows 8 users in a downloadable, easy-to-read format. Consumers can read their comics on multiple devices using a single user account in either Flipbook mode or Panel-by-Panel mode.
With more than 400 comics in 20 languages, Amar Chitra Katha paperbacks have sold over 90 million copies to date. But what is now to be seen, is whether today's kids will still continue to shover as much love on Amar Chitra Katha, as yesteryears kids, who did not have a tablet or a smartphone to entertain them.
To download the Amar Chitra Katha App for Windows 8, users can visit the Windows Store.