E-commerce giant Amazon has announced a new initiative for its Prime members in India: Amazon Gaming with Prime. As part of this new gaming content plan, Amazon Prime subscribers will receive complimentary access to in-game content on a lot of popular smartphone games. Amazon says its offerings are refreshed frequently.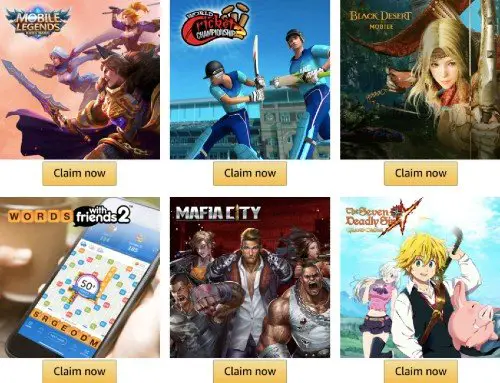 Amazon Gaming with Prime comes to India
Meanwhile, Amazon is providing Prime members with access to a lot of free in-gaming content on popular mobile games such as Mobile Legends: Bang Bang, World Cricket Championship 2, Black Desert Mobile, Words With Friends 2, Mafia City, The Seven Deadly Sins: Grand Cross, etc.
How to get started with Amazon Gaming with Prime
Claiming in-game content on the aforementioned titles is a fairly simple and straightforward process. All you need to do is download and start supported games. Start the game and discover the option to log in with Amazon (Make sure you have active Amazon Prime membership).
In the event that you don't have active Amazon Prime membership, make sure to buy one before you can avail free in-game content on our favorite, supported mobile games. Once customers have successfully signed in, they can proceed to claim free in-game content.
Plus, you can also subscribe to Amazon newsletters to keep yourself updated as and when new mobile games become available as part of this Prime benefit. On its official website, Amazon writes:
"Stay updated with the latest game launches & content drops. Subscribe to the newsletter by clicking Notify Me."
Other benefits of Amazon Prime membership
In addition to claiming free in-game content, users can avail various other benefits of the Amazon Prime membership, as follows:
Amazon offers certain logistical benefits to Prime members such as unlimited, free one-day, and two-day delivery on millions of products. Secondly, there is Amazon Prime Video that offers a whole host of popular movies and TV shows such as The Office. Then comes Amazon Prime Music. Although Amazon Prime Music is free to stream for all users, Amazon Prime membership will get you an ad-free music streaming experience.
Amazon offers exclusive deals and rewards points to Prime subscribers, in addition to free, discounted access to a lot of eBooks under its Prime Reading initiative.