In an effort to reduce dependency on Apple's iTunes Store for downloading and playing music, the retail giant – Amazon today announced the launch of mobile version of its MP3 store for iPhone and iPod Touch. Amazon.com believes, the offering made by it would provide users an alternative way for buying songs from the online retailer with their Apple devices.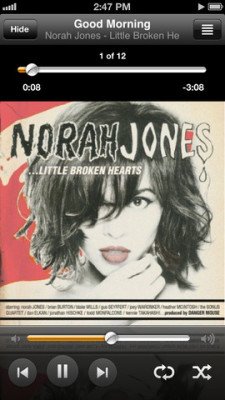 The store currently offers over 20 million tracks via a specially formatted mobile website. Yes, a website/web app not an app. Why? By building a Web app rather than an app, Amazon has managed to bypass Apple's in-app purchasing guidelines, which requires developers of apps to share 30 percent of their download revenue with the company directly.
Users can access the music store using the Safari browser, but for downloading and playing a song of their choice, they need to have Amazon Cloud Player app installed. While visiting the store, a user can purchase individual songs or albums from the store, it automatically gets transferred to the Amazon Cloud Player account (which holds 5GB of free storage). The song can then be played back using the Cloud Player mobile apps.
Steve Boom, vice president of Amazon Music, in a statement said,
Now iPhone and iPod Touch users "can access Amazon's huge catalog of music, features like personalized recommendations, deals like albums for $5, songs for $0.69, and they can buy their music once and use it everywhere.
If interested, one can even add a purchased song or album to his iTunes music library by accessing the Amazon Cloud Player using a computer. Simply select the song you want and click 'Download'. Using the 'Amazon MP3 Downloader' the song gets download in few minutes. Once it's done, simply drag the song to your iTunes library.