Americans spend nearly a quarter of their time online on social networking sites and blogs, up from 15.8 percent just a year ago (43 percent increase) according to new research released today from The Nielsen Company.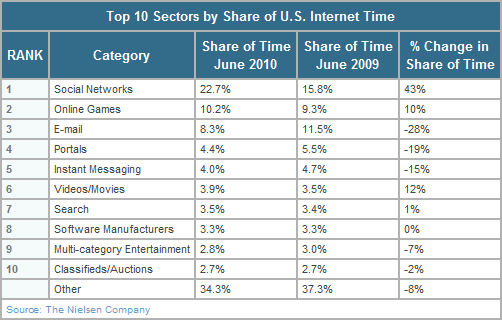 The research revealed that Americans spend a third their online time (36 percent) communicating and networking across social networks, blogs, personal email and instant messaging.
"Despite the almost unlimited nature of what you can do on the web, 40 percent of U.S. online time is spent on just three activities – social networking, playing games and emailing leaving a whole lot of other sectors fighting for a declining share of the online pie," said Nielsen analyst Dave Martin.
In the social networking category, 84% share went to Facebook, followed by MySpace at 5.6%. Twitter & Blogger tied for 3rd place at 1.1%.
Full report: ACNielsen.