Sophos recently released its Security Threat Report 2013 for public consumption. The report was based on new platforms being developed and the changing threats and such as BlackHole, Java attacks, Polymorphic attacks, Mac malware and Android threats. The security threat report shows that Android devices are more prone to the hackers' attacks as compared to the Windows machines.
According to the report released by Sophos, 10% of Android based devices experienced the malware attack whereas Windows PCs attacks were recorded just 6% in a period of three months.
The social media attacks are supposed to rise in 2013 and Android mobile platform is the primary target of the attackers, says the report.
CTO Sophos, Gerhard Eschelbeck wrote in the report "While malware for Android was just a lab example a few years ago, it has become a serious and growing threat."
The security threat report 2013 released by Sophos also includes the Android TER (Threat Exposure Rate). The figures in the report reveal that countries like Hong Kong, Taiwan, UAE, Mexico, Malaysia, India, Philippines, Thailand, China and Indonesia are at maximum risk with TER of 23.54% – 11.47% respectively. Norway is considered as the safest country with Threat Exposure Rate (TER) of just 1.81%.
Threat Exposure Rates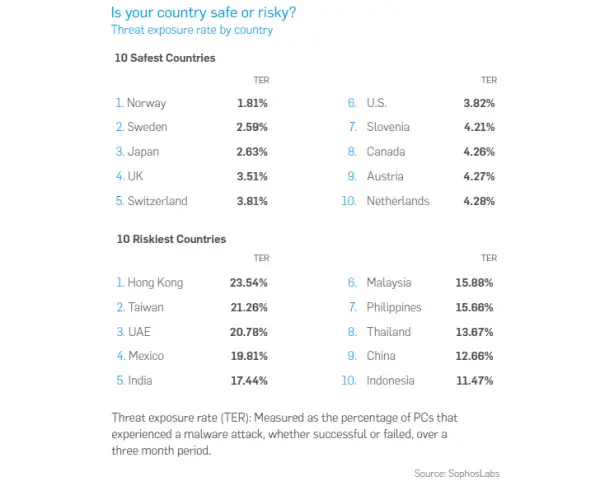 The Android mobile malware techniques included in the Annual Security Threat Report 2013 were stealing banking information, connecting the Android device to a botnet, increase privileges and sending messages for profit.
The report further says that the rooted Android devices are more prone to the malware attacks. Rooting evades the inbuilt security programs in Android devices giving the third-party apps access to the personal data.
http://youtu.be/Ppuh1dY_DE4
You can get the detailed facts by downloading the complete Sophos Security Threat Report 2013.