While the fourth quarter of the year 2012 may have witnessed a rapid increase in the Android smartphone market, it also marked malicious apps as a growing menace, especially for the Android ecosystem. The number of High Risk Apps found on global market places steadily increased up in the Q4 2012 up to 45%, showed a report.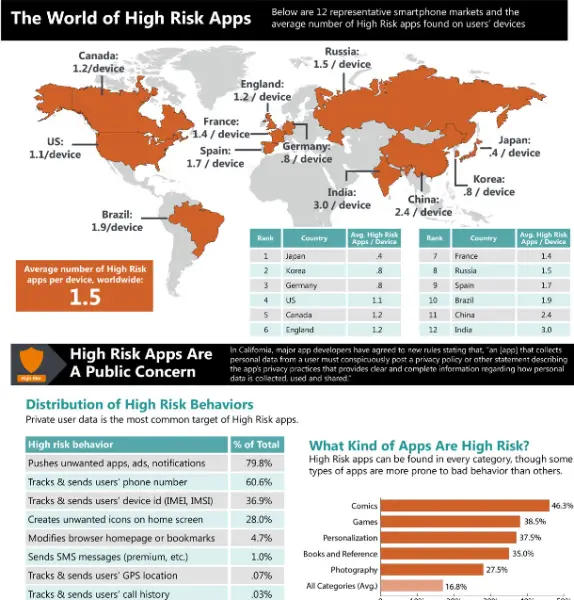 TrustGo Mobile Inc., a mobile security company today released its Q4 Mobile Mayhem Report. The report which reveals the status and trends in mobile app security highlighted app-based threats as a major problem in the Android system.
After doing extensive research from the collected data (information on 2.27 million apps found on 187 marketplaces worldwide), the organization analyzed all new apps uploaded to monitored marketplaces via TrustGo's Secure App Finder Engine (SAFE) and classified each app into one of the below mentioned categories:
Certified (Safe to download)
Malicious (Containing a virus, Trojan, spyware, etc.)
High Risk (Containing code that leverages granted permissions to create a security risk)
Low Risk/Noisy (Has potential to annoy users with excessive notifications or advertisements)
Xuyang Li, founder and CEO of TrustGo believes malware continues to be a problem around the world, hence, different categories for apps to help you distinguish between 'High Risk' apps and 'Safe' apps. It is 'High Risk' apps in which the growth of malicious activity is most observed.
After categorizing apps, TrustGo shared some of the observations made by it during the quarter – Q4, 2012
Dramatic increase in apps that are not conventionally considered malicious, but are categorized by TrustGo as High Risk — 356,675 (Q3 '12) to 511,043 (Q4 '12), an increase of 43.2%;
More than 1 in 5 apps (21.1%) available worldwide have High Risk code that can compromise users' personal data, make unauthorized payments, push unwanted apps, etc.;
Google Play ranks as the 5th safest marketplace, though it currently hosts more than 60,000 High Risk apps
China-based app marketplaces remain the most risky in the world with 39.2% of apps flagged as Malicious, High Risk, or Low Risk/Noisy. The Anzhi marketplace is China's riskiest major market with more than three quarters of all apps (77.6%) representing some risk to users;
Users in India, on average, have the most High Risk apps on their devices (3.0). Chinese users have an average of 2.4 High Risk apps per device.
The Aproov app marketplace, based in Europe, was the safest overall with only 2.0% of apps failing to achieve a Certified rating;
Games are the most common category in which to find High Risk apps. Worldwide, more than 178,000 game apps have the High Risk Security Rating, representing 44.5% of all such apps.
For downloading the PDF version of report, visit TrustGo.com