When using any Internet Security Suite or a popular antivirus software, it is important to know if it can protect your system from malware. A user cannot always test whether a particular antivirus tool or software is suitable as well as efficient for his needs. But, AV TEST put 8 security suites and 7 popular repair tools on various endurance tests to determine how each of them is reliable in restoring the system after a virus attack. Eight of the well-known security suites such as Microsoft Security Essentials and Symantec Norton Security were tested for their ability to clean an infected system.
Tests done by AV TEST on various security suites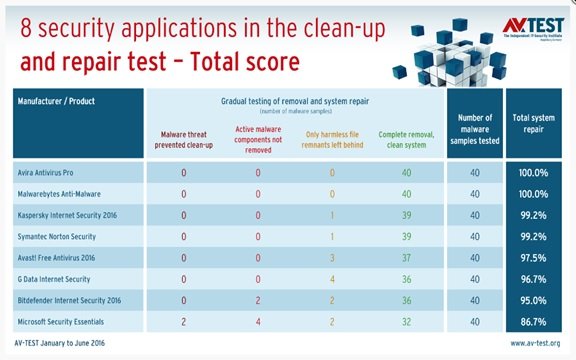 AV TEST gives reviews on antivirus tools, security software and antimalware. AV TEST this time tested 8 well-known security solutions for Windows PCs and 7 special tools for cleaning up and repairing infected PCs. These tests were carried out from January up to the beginning of July 2016.
Many users think that the popular tools and antivirus suites built into Windows will certainly protect them sufficiently. However, not every security solution installed on your PC can efficiently restore your PC after a virus or malware attack. The tests performed by AV TEST tried to analyze this very question, whether the tried and tested tools and software can really restore the PC in the same state as it was before the attack.
Here is the list of tools and security suites that were tested by AV TEST:
8 Security suites:
Avast! Free Antivirus 2016
Avira Antivirus Pro
Bitdefender Internet Security 2016
G Data Internet Security
Malwarebytes Anti-Malware
Microsoft Security Essentials
Symantec Norton Security
7 Special tools and boot CDs:
Avira PC Cleaner
Bitdefender Rescue CD
Antibot CD
Heise Desinfec't 2016
HitmanPro
Kaspersky Virus Removal Tool
Microsoft Windows Malicious Software Removal Tool
Result drawn by AV TEST
AV TEST had put the security packages on test in two scenarios.
They were installed on an already infected system.
They were already installed, switched off briefly in order to infect the system, and then reactivated.
On the other hand, the special tools were put on test only on the infected systems. There were nearly 474 tests performed by AV TEST for 6 months. After the tests, AV TEST came to the following conclusion:
Out of 8 security packages, 6 were recommended for use. This include:
Avira Antivirus Pro
Malwarebytes Anti-Malware
Kaspersky Internet Security 2016
Symantec Norton Security
Avast! Free Antivirus 2016
G Data Internet Security
AV TEST mentions that these 6 packages were able to either completely remove or only leave harmless file remnants, i.e. a text file, from the 40 malware samples used in the endurance test.
Out of 7 special tools, only 2 performed well in the tests. The successful tools were Kaspersky Virus Removal Tool and HitmanPro. These tools were able to completely remove the already infiltrated malware in 22 test cases or overlooked only one innocuous file remnant.
Though these results are 6 months old; however, users can still follow the recommendations made by AV TEST. Read the complete report on this link.