Computing is something we need in each and every field, laptops, tablets and smartphones. The advancements in technology have brought about a paradigm shift in the role of technology in many fields like life sciences, biology and even agriculture. In spite of seeing a slew of devices being released in the market there are very few that cater to the niche segments. For instance, a normal iPad would be useless for an engineer working in a mine as he would require a sturdy tablet that can sustain the work conditions. But Bakusa Seal 8 is of a different breed!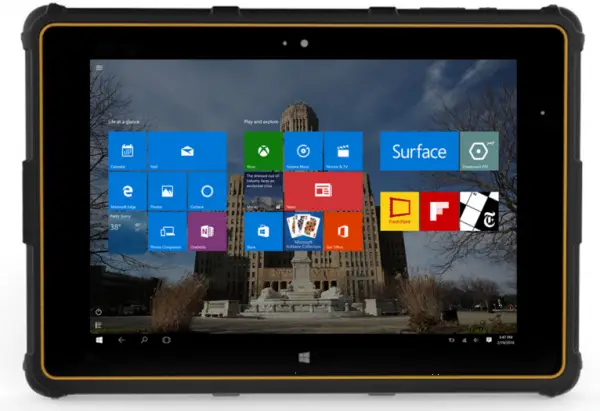 Seal 8 is a rugged tablet from Bakusa
Bakusa is a US based tablet maker that has been coming out with rugged tablets for tough jobs. The tablets run on Windows 10 and come wrapped in an unbreakable gorilla glass and a hardened rubber casing that encloses the device. Bakusa is one of the very few companies that has actually setup its shop in the US and is training the neighbors for the job.
The company was in the limelight with their previous SurTab, a low cost tablet that was built to uplift the economy in Haiti post the 2010 earthquake. Recently the tablet maker joined hands with Microsoft and is now an official Microsoft Original Equipment Manufacturer and this will let it produce products evolving around the Windows 10 ecosystem.
The Seal 8 tablet comes equipped with two cameras on the either side which will help you capture images on site. It further also comes with an ability to scan codes, sense temperatures and also a fingerprint authentication for increased protection.
The company touts it to be the most rugged 8-inch tablet around and well we concur.
Seal 8 is up for preorder and Bakusa has still kept most of the specifications under the wrap, however they have revealed that it would cost just $499.99 which seems to be an excellent value for money proposition.