The very popular BBM or BlackBerry Messenger is now available for Windows Phone 8. After being on Android and iOS for long, BlackBerry announced the availability of its messaging service BBM on Windows Phone 8 and higher.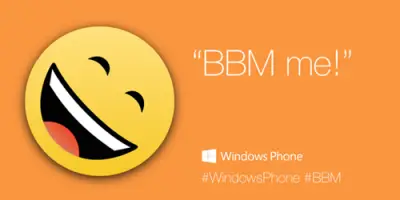 BBM for Windows Phone
BBM for Windows Phone 8 comes with a typical Windows Phone UI and thus looks different from its other platforms. It works on both Windows Phone 8 and 8.1.
BlackBerry launched its primitive beta of BBM for Windows Phone 8 a few weeks back which eventually turned out as a permanent placement today. As of now, the Windows Phone 8 users can chat, create groups and feeds, invite friends, and pin a group or chat to the Start Screen for Windows Phone 8.
BlackBerry has already started working on its next version but for now it is focused on speed, privacy, and security features. BBM for Windows Phone 8 provides the entire set of core features found on Android and iOS devices.
John Sims, President Global Enterprise Services at BlackBerry said, "As the popularity of BBM continues to grow, we are thrilled to have the opportunity to expand its availability to the Windows Phone community. The BBM app for Windows Phone is an exciting new chapter for the BBM service, and we are excited to be working with Microsoft to deliver a new level of collaboration to the Windows Phone platform."
Download the public beta of BBM for Windows Phone 8 and let us know how it works.