Apart from helping its customers become more productive and achieve more, Microsoft's mission is to empower people with disabilities. In pursuance of this objective, the company has partnered with a Danish startup – Be My Eyes to provide technical assistance to customers who are blind or have low vision.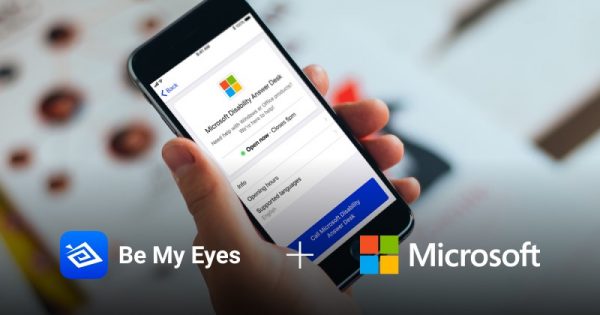 Microsoft joins hands with Be My Eyes
The software giant will be offering 'Be My Eyes' customers a direct connection to its technical support team through the new app feature, called Specialized Help. When users update Be My Eyes app the Specialized Help menu will be available to them. Through its menu, customers will be able to connect with the Microsoft Disability Answer Desk, where they will get support with Microsoft Office and Windows. This includes product Issues, accessibility questions, and use of assistive technology.
The app will work the same, connecting customers through video; but instead of reaching out to volunteers, customers will work directly with a member of the Microsoft Disability Answer Desk to get support on questions about their Microsoft product or service, mentioned Microsoft Accessibility Blog.

Through the new app update, customers in Australia, Canada, the United Kingdom, Hong Kong, Ireland, India, Malaysia, New Zealand, the Philippines, Singapore, South Africa, and the United States will be able to connect with the Microsoft Disability Answer Desk, it added further.
Apart from Microsoft, other reputed companies from a variety of fields are likely to join the Specialized Help platform soon. Users feedback will play a key role in expansion.
Be My Eyes is a free smartphone app that supports people who are blind or have low vision. The app is available for both platforms, Android and iOS. For more information, visit Microsoft Accessibility Blog.