Bitdefender Antivirus Free is a strong and lightweight free antivirus software for Windows. One of the features which was felt to be missing was the ability to quarantine suspicious or infected files. The free version has now received an update. It now includes a Quarantine function that prevents malware-infected files from doing harm, warns you if a web page you pan to visit is dangerous, and more.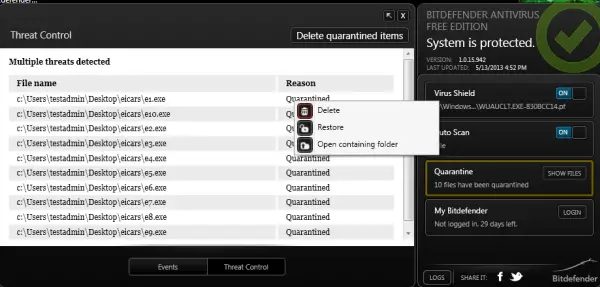 Alin Vlad, Global Social Media Coordinator at Bitdefender informed us via a comment that:
In our attempt to design Bitdefender Antivirus Free Edition as a minimalistic, set-and-forget solution, we went all the way, and automated the product 100%. But following your feedback, we are now introducing some basic functionalities so you can also tweak security to your needs:

– The new Threat Control now allows you to add exceptions to items which Bitdefender considers suspect, but which you would still like to use. Simply right-click the file listed in the Threat Control tab and the option will appear in a menu.

– If you want to access a webpage that Bitdefender considers dangerous, you can now continue at your own risk to that page. The option will also be remembered by the product for the current session, to ease your access.

– Other important updates include additional security levels added, compatibility with Comodo Firewall, and more frequent updates.
The new Quarantine function will allow white-listing of files. Even if Bitdefender classifies a file as infected and quarantines it, the user can reinstate it. Bitdefender Antivirus Free will then never interfere ever again as far as that file is concerned. As a user, you must be aware of the consequences of  manually removing a suspect file from quarantine or visiting a web page considered as dangerous. While Bitdefender Antivirus Free will warn you of the risks involved, if you choose to continue, the risk will be yours to take.