Ransomware is a type of malicious software that encrypts files on infected computers and demands payment from users in order to decrypt the files. DarkSide Ransomware is a new breed of ransomware that takes over computer data, encrypt files, and it runs on a very interesting model. It runs an affiliate program where each ransomware operator gets a commission. Each affiliate gets a unique code, and every time a victim pays a ransom, the affiliate gets their cut. This is as good as Ransomware as a Service model.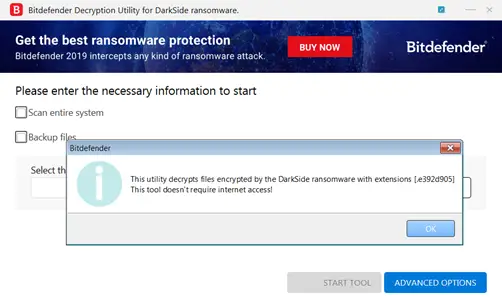 Darkside Ransomware Decryption Tool
The good news is that Bitdefender has come up with Darkside Ransomware Decryption Tool to get back all the encrypted data without you paying anything. The company is offering the  Darkside Ransomware Decryption Tool for free to anyone who is infected.
You can go to the Bitdefender website and download the decryption tool on the computer. Once downloaded, double-click the file to launch it.
Once you agree to the agreement, it will then start scanning your computer for the encrypted files. Make sure to choose to scan the entire system and also backup files. It will make sure all the files are scanned in case you are not aware which file has been taken over. Darkside Ransomware uses the "e392d905" extension, and that's how it identifies the files.
Click on the Start Tool button, and let it scan the entire system. Once done, it will display the list of files that are decrypted. The list is updated as it finds the files while the scan is in progress.
A complete log of files is created at %temp%\BDRemovalTool folder.
If you did check the backup option, you will have access to encrypted and decrypted files. Once you have access to the files, you can delete the encrypted files .
The tool is free, and since the files can be decrypted. You can download it from here.
Read: List of free Ransomware Decryption Tools to unlock files currently available.