Software Behemoth, Bitdefender recently announced that they will be retiring the free edition of its antivirus tool from 31st December 2021. The Free Antivirus edition by Bitdefender was, for many, the first choice of virus protection, given what is offered free of charge. But soon enough, users of this software will have to look elsewhere or opt for one of Bitdefender's many paid antivirus software.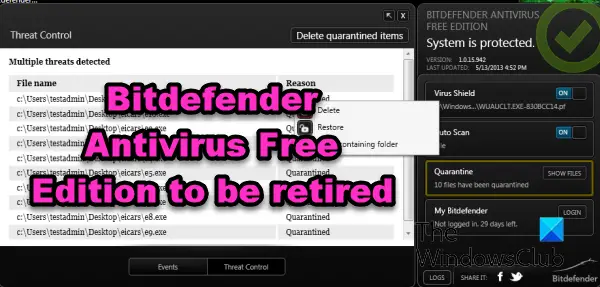 Bitdefender Antivirus Free Edition to be retired at the end of 2021
In an email addressed to its customers, Bitdefender announced its decision to discontinue the antivirus' free edition and explained why they've decided to do so. In the email, they talked about the changes in the security industry and how many of their plans around product development and advancement have been brought into question because of them.
In a statement on the software's official website, the company quoted the following:
"Bitdefender values its customers and user base; all our Bitdefender Antivirus Free users will receive privately (via email) a special discounted offer for Bitdefender Total Security. All free users of Bitdefender will receive a special offer for a discounted version of the company's Total Security application."
Obvious speculations behind this decision are the advancements that Microsoft's built-in Windows defender has received in recent times. The antivirus is now better than ever and caters to the needs of most users. This, in turn, eliminates the need to install third-party antivirus software.
A Bitdefender admin noted the following when asked if Bitdefender Free will be available for use in the future:
"We constantly revisit our product portfolio to make sure the technologies we bundle in these products are enough to keep the user safe in all circumstances. Unfortunately, our Free Antivirus product no longer meets our higher-than-ever standards."
You can read his entire comment on community.bitdefender.com.
Those who are currently using this free antivirus software will not be left high and dry. The company announced that it will continue to provide tech support to its current users till June 30, 2022.