In the latest test performed by AV-TEST on Internet Security Suites, BitDefender, Kaspersky, Avira, Bitdefender, Kaspersky Lab, Symantec and Comodo were among the top performers. These security suites managed to detect 100% of the malware involved in this test.  However, only two packages were able to score the maximum total of 18 points, namely the solutions from Bitdefender and Kaspersky Lab.
Best Internet Security Suite
When AV-TEST performed the Internet Security Suite tests on Windows 8.1 using different security suites available in the market, it was found that BitDefender and Kaspersky one of the top-most performers.
During the two months of these tests, the laboratory experts of AV-TEST attacked Windows 8.1 systems with both brand-new as well as well-known malware. The impact of these malware was tested using different Internet Security Suites. All these packages needed to deal with nearly 20,000 pieces of the known and new malware.
The tests were certainly designed to test different Internet Security Suites' performance for the malware attacks. Their performance was mainly tested for their reaction for unknown malware which are new to the system, but may be severely hazardous. Thus, these tests helped find the Internet Security Suites that were able to pass the "real-world tests".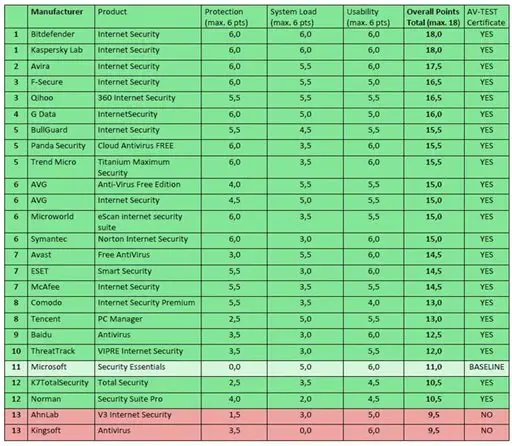 The good news was that the Internet Security Suites from Bitdefender and Kaspersky Lab could grab maximum points in all test categories and therefore boast an overall total of 18 points. These two winners are closely followed by the paid version of the Avira software with a total of 17.5 points. Among free software versions from Panda, AVG and Avast grabbed the 5th, 6th and 7th position with totals of 15.5, 15 and 14.5 points respectively.