Blekko, the search startup yesterday launched a new search engine Izik, specifically designed for the tablets. Izik brings a tingly search experience for the tablet users, especially the iPad and Android tablet users.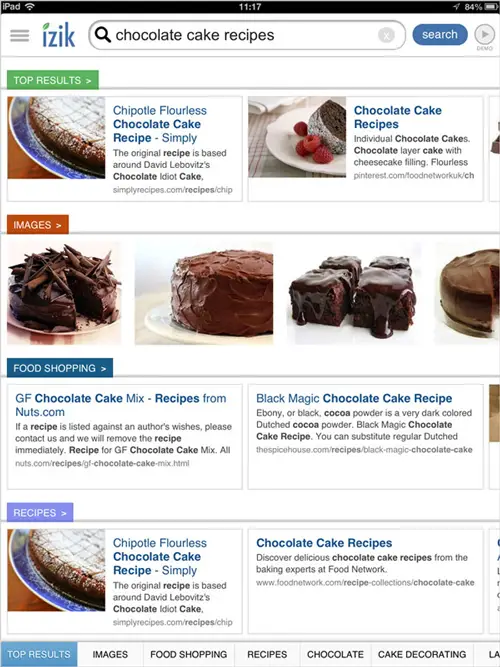 Based on Blekko's search technology this new search built app brings beautiful glossy search results enriched with relevant images and suitable categories. Izik is an image driven search app which brings a touch friendly interface.
The app debuted on Friday, January 4, 2013 with the release of free apps for the Android tablets and iPads and brings a few most popularly searched queries in the home page providing a search convenience to users. When typed any search term in the search box, the app brings a systematically generated list of different categories suitable to your search term. You can then zoom any category to move ahead with the search results.
For example; if you want to search for the Windows Phone 8, the app will bring up the categories like tech websites, tech news, Windows Phone related websites. Similarly when you type 'Katy Perry' in the search box, the app will offer the categories like music-websites, Katy Perry's albums, gossips etc. Izik search built app is based on the categorization technology.
Talking about the dynamic interface of the app, Blekko CEO Rich Skrenta says, "this interface "really blows up" the idea that users are only going to look at few search results, because Izik makes it so easy to see many scroll down or swipe through many more results".
Izik, the search app works on desktops and laptops too but shows the best output in tablets, said Ashton Kutcher, Blekko investor in a press release.
The Izik app is available as a free download for iPad and Android, presently.