Privacy has become a joke, well it always was! No matter which browser you try, which software you pickup, and no matter what claims one makes. Privacy is a lost cause. The recent setback comes from Brave Browser. Saractstyically it was advertised as—Open-source browser designed to prioritize privacy by blocking third-party ads and trackers. It has been found to add affiliate links to Cryptocurrency URLs automatically. The company claims it to be a mistake, and we hope it is, but this is bad.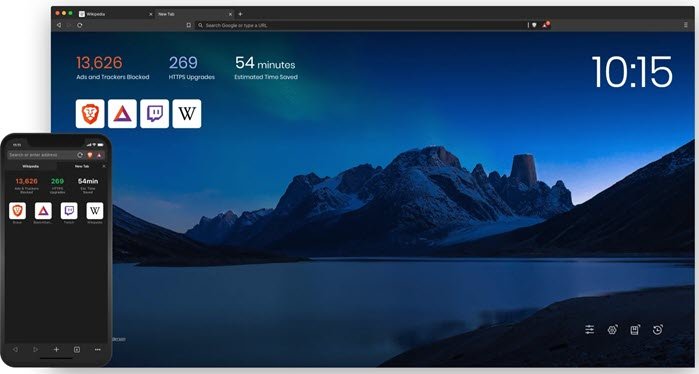 Privacy browser Brave found to add affiliate links
Spotted by Yannick Eckl. aka @Cryptonator1337, he found that when someone types binance.us, you end up getting redirected to binance.us/en?ref=35089877. If someone signed up using that URL, someone got a commission. Also, the end-user will get tracked further without a doubt. That is bad for any company.
Brave co-founder and CEO Brendan Eich apologized for it and said tweeted via @BrendanEich that the company had made a mistake and was correcting it.
Brave default autocompletes verbatim 'http://binance.us' in the address bar to add an affiliate code. We are a Binance affiliate, we refer users via the opt-in trading widget on the new tab page, but autocomplete should not add any code.
He further added to one of the replies:
No "link hijacking". A link is that blue thing on the page you click, we never change where they point, at most we upgrade to https: from http:. The issue was defaulting completions for URLs to add affiliate codes, a bug we're hotfixing. We are not getting revenue from this.
The explanation does make sense because the model of advertisement in Brave is pushing notification instead of traditional banners. There are traditional advertising widgets to its tab pages, and users, when they opt-in, are paid in blockchain tickets to view ads.
Regarding user tracking, he also clarified that:
No tracking links, the first word sounds like user tracking but the referral code identifies Brave not the user; no link either, URL faux-autocomplete in address bar only (some are misinforming about link in page rewriting).
We can only hope that this was a genuine mistake and doesn't get repeated in the future. There is nothing a much a user can do except being careful. If you are using Brave Browser, do share your experience, and what you think about this whole thing.