Brave Software Inc. has released the latest version of the Brave browser Group Policy templates for Enterprise. This latest version includes many features and improvements that IT/Network/System admins will find useful to set browser policies on corporate-managed computers.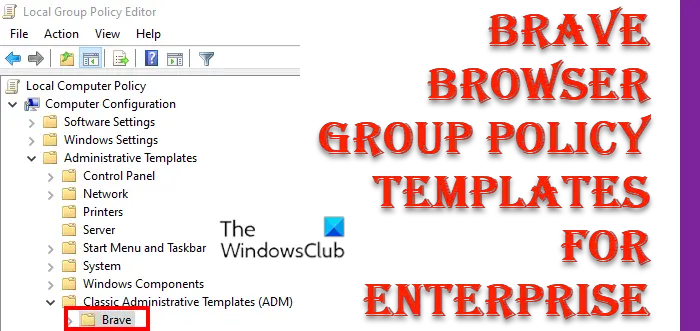 Group Policy Editor is a Microsoft Management Console (MMC) available in all enterprise editions of Windows operating systems. It is used to modify and configure the Group Policy settings within Group Policy Objects (GPOs) for multiple users and computers throughout a network environment.
Brave browser Group Policy templates for Enterprise
Previously, users had to download the policy templates for Chrome browser and then modify them accordingly for Brave browser. With this new update, IT or Network administrators can use Windows Local Group Policy Editor or another preferred configuration tool in conjunction with Brave's Policy Templates. This lets them install, update and enforce both Device-level and OS-level policies easily, provided the latest build of Brave browser should be installed on their systems. Brave browser has an automatic update feature. However, you can also check for updates in Brave manually.
The policy templates for Brave are available on the official website of Brave in the policy_templates.zip file. You can download them from there. After downloading the Group Policy templates, you can add them to your Local Group Policy Editor by following the steps written below:
Open Local Group Policy Editor.
Go to "Computer Configuration > Administrative Templates."
Right-click on Administrative Templates and select Add/Remove Templates.
Click Add and select the file you saved on your computer.
After following the above steps, you should see the Brave folder under the Classic Administrative Templates (ADM). Select the Brave folder to view all its settings that can be modified directly through the Windows Local Group Policy Editor.
Some policy settings have not been included in the template yet. Therefore, you have to use the Registry Editor to modify these policies for Brave. For more details, you can visit the official website of Brave.