Imagine a Microsoft Teams meeting with many people, and few need to ask questions only to one person, e.g., Someone wants to connect to the Product manager while others need to talk to the Sales Manager. Making them talk to each other in the same room can be done, but then it's going to chaotic, and most of the people will end up wasting time. While you can create separate rooms, but then it's too much hassle joining back and forth. That is where the Breakout rooms feature comes into the picture.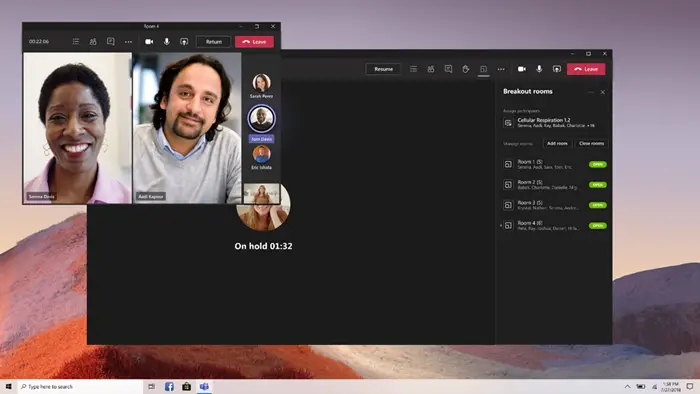 Microsoft Teams introduces Breakout Rooms
In simple words, Breakout rooms are sub-rooms that allows the organizer to let team members brainstorm in smaller groups. The meeting organizer allows you to create 50 breakout rooms and allows the organizer to manually or automatically assign participants. Here is the list of features:
Breakout room can be started in a Teams meeting or a Teams channel meeting.
Allow participants to come back to the main meeting at any time, then return to the assigned breakout room.
Settings to re-create breakout rooms in the same meeting.
The Organizer can create, rename, and delete rooms as needed.
Anyone can join open breakout rooms.
Quickly switch attendees in between breakout rooms.
Send announcements to the breakout rooms, and recall all participants back to the main meeting at any time.
Support for Microsoft Whiteboard and draw out their ideas.
Files shared in breakout rooms can be shared in the main meeting.
That said, here are a few more features you should know.  The breakout feature is only available to organizers and only from the desktop client. However, the attendees can join from anywhere, i.e., desktop, web, or mobile.
To start using Breakout Rooms in Microsoft Teams:
Enable the new experience by turning it on from Teams > Settings > General.
If you are an IT admin who needs to enable it for the enterprise, you need to download and install it.
Educators can also use this feature in the same way with the option to push students into breakout rooms, call them back to the main meeting. If a teacher needs to explain a concept to only a few students, he can always use this.
It is an excellent feature from Microsoft where everyone can join the same meeting, go into a small room for more focused discussion, and then come back. Most of the time, people have a problem with joining and leaving meetings, which resolves this.
More on the official blog post of Microsoft Teams.