Microsoft has released Build 2016 app for Windows 10, Android and iOS. As you know, Microsoft Build is an annual conference event held by Microsoft for Developers. And this year its being held from March 30 – April 1 in San Francisco, CA.

Build 2016 app for Windows 10
Microsoft released Build 2016 app for various platforms Windows 10, Android and iOS.
Microsoft released a new Windows 10 UWP app for Build 2016. This app developed by Eventbase Technology essentially allows to manage your personal agenda, view event session details, submit session feedback, access interactive venue and show floor maps and much more. One has to sign-in with the mail ID which was used for Build registration. Its some of the features are:
My Schedule : One can access and modify list of sessions, speakers, exhibitors that one has added as favorites in app or website Schedule builder.

Schedule builder: One can view, search the complete session list, can favorite, view details, submit evaluation and more.

Showcase: One can find various Microsoft Groups and partners one wants to meet.

Conference info: Get all the important info and know about the event highlights.

Maps: Maps assist to find your way around the venue.

Social & News: Join or follow various discussions through social channels.
This app supports Windows 10, Windows Phone 10, Windows Phone 8.1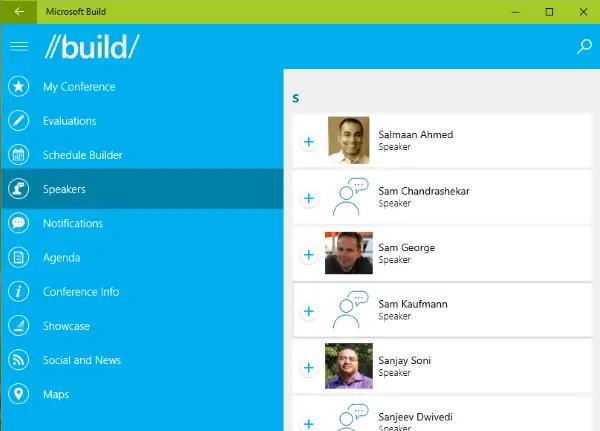 You can get the Build app for Windows from here.
Build 2016 app for Android and iOS
Microsoft has also released Build 2016 app for Android and iOS. The apps offered by Eventbase Technology has updated the apps for Build 2016. And includes all the features as included in the Windows 10 app. Features include: My Schedule, Schedule Builder, Showcase, Conference info, Maps, Social & news.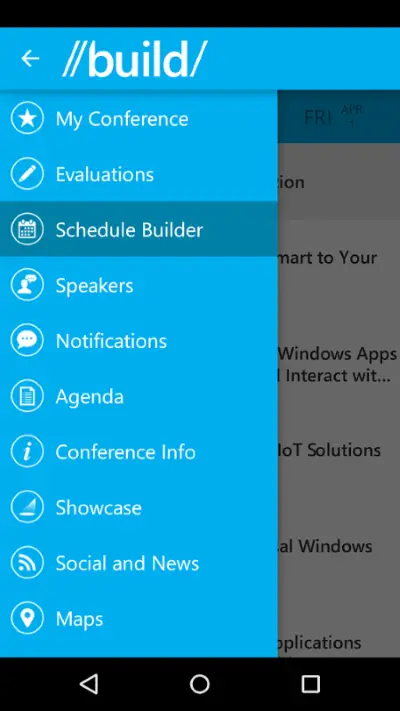 Android app requires Android v. 4.0.3 and up and can be downloaded from here.
iOS app requires iOS 8.0 or later. It is compatible with iPhone, iPad and iPod touch. The iOS app can be downloaded from here.
For more information about Microsoft Build, visit the Build website.
Watch the live streaming of Build 2016 here with us!