Canva is well known for its graphic design tool that is very user-friendly, but things are changing as the company recently announced at the Canva Create event a suite of new products called Canva Visual Worksuite to improve its offerings and compete with major players.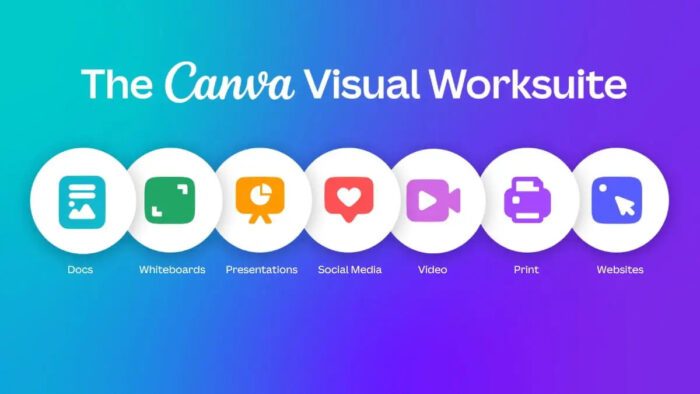 Canva Visual Worksuite launched
Canva Visual Worksuite comes packed with tools such as Canva Docs, Canva Websites, Canva Whiteboards, and Data Visualization. This is basically a Microsoft Office 365 competitor since it will also contain Canva Presentations as part of the overall suite.
Today marks a momentous step forward in this vision and Canva's journey as we reveal the biggest changes to Canva in almost a decade. Announced on stage moments ago at our inaugural Canva Create global event, we're excited to usher in a Visual Worksuite designed for the modern, visual, and ever-evolving world we live in, says the Canva blog post.
Canva Docs
Canva has done a great job over the past couple of years competing with Adobe with its graphic design tool, so we should expect great things now that the company has entered the document editing space with Canva Docs.
From what we can tell, this tool focuses a lot on the visual nature of documents and gives the user more freedom to spice up a document rather than keeping primarily to the business-like feel Microsoft Word is known for.
Canva Docs is trying to be cool to attract the younger crowd, and it could work in the distant future.
Canva Whiteboards
Another new and interesting tool we need to keep an eye out for is Canva Whiteboards. This app is designed for teams to collaborate on matters of work, so as it stands, it will likely compete directly with Microsoft Teams.
The wonderful thing about this tool is that it is integrated with Canva Presentations, Canva Docs, and others. This should make collaboration more seamless than ever, something Microsoft Teams lacks at the time of writing.
Still, despite all the new tools Canva is bringing to the table, they are not on the same level as Microsoft Office 365 in terms of features offered. However, most users are not interested in a ton of features, just the basic options and simplicity, and Canva Visual Worksuite appears to have done a nice job in those respects.