Microsoft has introduced Career Factor to the greater digital marketing and social media community at Microsoft. Career Factor is a non-competitive reality show using social and digital media to tell the stories of eight real-life customers as they build their careers around Microsoft products, specifically training and certification resources offered by Microsoft Learning (MSL).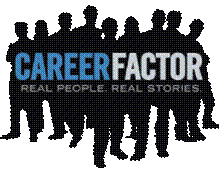 Career Factor is an innovative way to tell the true stories of how the customers use Microsoft products to advance their careers while disproving many myths around Microsoft Certifications. The show was launched in January and can be viewed at TheCareerFactor.com until it ends at Tech·Ed North America in May.
Career Factor profiles eight individuals, each seeking help and support to take the next step in their IT careers. Each participant receives support from Microsoft and selected partners, and they tell their individual stories through Twitter posts, Facebook updates, blog entries, and weekly "confessional" videos.
The Cast:
The Job Seeker: Steve Molkentin, Australia
• Last worked as IT consultant for 137 catholic schools in AU, currently doing a week contract in help desk, lives in Brisbane but his house is away from the flooding.
• Goal: Upgrade skills and get certified to improve job prospects
Watch Steve's video and read his blog.
The Student: Kevin Dicken, United States
• Currently an information systems management student at Dallas Baptist University and interested in an IT Pro job after graduation
• Goal: Get certified (if needed), learn job hunting and interviewing skills, and find a job
Watch Kevin's video and read his blog.
The Aspiring Microsoft Certified Master: Bojan Nenadic, United Kingdom
• MCSE, MCT and lead architect, attending the MCM Exchange 2010 program Jan 17-Feb 5.
• Goal: Take the MCM course and pass the Exchange 2010 MCM exam
View Bojan's blog.
The Do-It-Yourself IT Pro: Eddie Boles, United States
• Laid off 2 years ago as a production coordinator, returned to IT pro career
• Currently taking classes at New Horizons – San Diego, is the family's "IT guy", currently working as a barista to make ends meet
• Goal: Get TS and Pro certified and formally credentialed
View Eddie's video and read his blog.
The Windows Phone 7 Developer: Rabeb Othmani, Tunisia
• MIC Tunisia coordinator for DreamSpark, BizSpark, and WebSpark, Senior computer engineering student, winner of Tunisia Imagine Cup 2010
• Goal: Learn WP7 and build an WP7 app to be released on the marketplace
View Rabeb's video and read her blog.
The Windows Azure Developer: Neil Simon, Ireland/Canada
• From Ireland but moving to remote city in Canada to be with his fiancé
• Will develop a cloud based dataset mining and comparison tool
• Goal: Learn Azure, get certified, build his app in Azure
View Neil's video and read his blog.
The IT Manager: Simon Davis, United Kingdom
• IT manager for MPN gold certified partner
• Manages a team of 8 developers needing to get certified to retain MPN status
• Goal: Get team members certified in C#, VS2010 and MCPD (70-518)
View Simon's video and read his blog.
Certiport Office Competitor: Caroline Weilinger, Canada
• 2nd year student in the Administrative Information Technology program
• Professional equestrian show jumper and plans to work in the industry
• Goal: Train in Office 2010 and compete in the 2011 Certiport Worldwide Competition
View Caroline's video and read her blog.