CCleaner, one of the longest-established system cleaners has been blacklisted by Microsoft Answers. The exact reason for banning the freeware's links is not known but it appears that the interfering of the utility with Microsoft Security policy might have prompted its removal.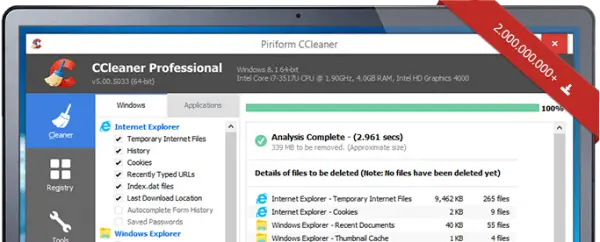 CCleaner links blacklisted by Microsoft Answers
Developed by Piriform, CCleaner is a tool that finds its utility in cleaning potentially unwanted files and invalid Windows Registry entries from a computer. Microsoft clearly mentions that some products such as registry cleaning utilities suggest that the registry needs regular maintenance or cleaning.  However, serious issues can occur when users modify the registry incorrectly using these types of utilities. These issues might require them to reinstall the operating system due to instability. To avert such a crisis, Microsoft might have decided to prevent the linking of the app as a precautionary measure.
In an exclusive press release visible only to moderators on Microsoft official forum, you'll find the list of 11 blacklisted domains, alongside the following description
Blacklist Filter

Microsoft has various filters in place to keep community members safe. When a website that is blacklisted is posted, the system will remove it if it has been posted by an unaffiliated user. The filter will remove part of the site so it is unreadable with four stars (****). Affiliated users are able to post websites which are blacklisted.
The list includes CCleaner as the last entry.
So, as it stands, it will not be possible now to recommend CCleaner on Microsoft pages by normal users. In rare cases, Moderators or Agents will be allowed to admit or insert pages belonging to the domain in the blacklist. However the CCleaner application is not being blocked by Microsoft Defender or SmartScreen.
Source – HTNOVO on Twitter.