It's May and it's the Military Appreciation Month and this time you can celebrate it with Microsoft. Confused how? Well. this time Microsoft has merged forces with the USO (United Services Organization) to thank the deployed service members during Military Appreciation Month which is celebrated in the month of May every year.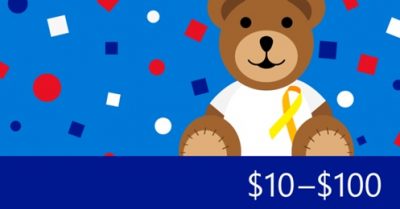 Military Appreciation Month
Microsoft will match donations up to $25000
Microsoft will match donations up to $25000, so get going and show your support too by sending a digital gift card to them before the Armed Forces Day i.e. 21st of May.
Write Note of Appreciation for the Service Members
How about writing a note of appreciation for the deployed service member? Yes, you too can write a note of appreciation along with the gift cards purchased. USO Northwest will be sending those messages with the gift cards to the deployed service members.
USO is the in-charge for supporting and entertaining service members
The notes that you write is a little appreciation which will help the members to stay entertained. And USO has been in charge for over 75 years for supporting and entertaining the service members. To know more, visit USO.org.
Special Event by USO Northwest
Special events will be organised by the USO Northwest at the Microsoft Store in Bellevue and University Village.  In these events you can have the real time opportunity to meet the service members in Seattle area. One can even write their own appreciation messages in person.
Start Donating with Microsoft
Here is a chance to show your appreciation towards the service members. So get started! Pick up a Military Appreciation gift card with your desired donation amount ($10-$100). You can either-
Donate Online- Log in to your Microsoft Account and send across your gift card to [email protected]
Donate in Person- if you live in the Seattle area, just visit a Microsoft Retail Store located at the University Village or in Bellevue and buy gift cards and write your messages in person.
Celebrate in Person: Here are the Details of the Events
Microsoft Store Bellevue Military Appreciation event hours:
May 18 – 19, 1 – 4 p.m.
May 20, 9:30 a.m. – 1:30 p.m.
May 21, 4 – 9 p.m.
Microsoft Store University Village Military Appreciation event hours:
May 18, 12 – 2 p.m.
May 19, 12 – 4 p.m.
May 20, 12 – 8 p.m.
May 21, 10 a.m. – 9 p.m.
Read more about this celebration on Microsoft Blogs.