A Chinese Consortium has decided to acquire the Yahoo! Bing Network Contextual Ads program. It's a service that allows publishers to use the Media.net platform to create and serve ads to their customers. Advertisements from Media.net can be customized in many ways, and are very similar to Google's own Adsense program. The service display's targeted ads that are pulled from the Yahoo! Bing Network.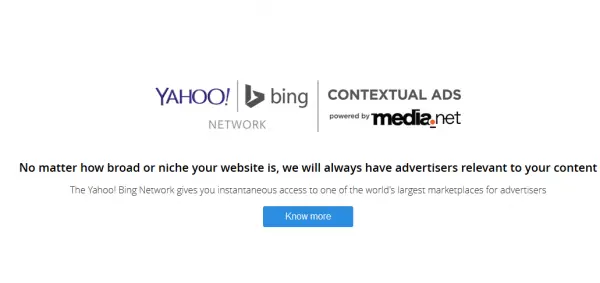 Chinese investors acquire Media.net
To many, Media.net is the only true alternative to Google Adsense, but with the help of a new owner, things could change.
From what we've come to understand via the announcement, Chinese investors have acquired the service for $900 million. A report from The Times of India stated that one of the founders, Divyank Turakhia, will continue to steer the ship of Media.net despite the buyout. However, the other founder, Bhavin Turakhia, will steer the ship of Mumbai-headquartered Directi, a company that operates for startups.
The Turakhia brothers are impressive young men who have achieved a lot in the past number of years. They have turned Media.net into a must-have ad platform that rivals Google Adsense in more ways than one.
"Media.net gets 90% of its revenue from the US market and the remaining from Canada and UK. China is the second biggest online advertising market and the fastest growing. This deal gives us an opportunity to build a growth story there," Divyank said.
The question we should be asking, right now, is if Microsoft and Yahoo will have any good feeling knowing a Chinese company is the backbone of their advertisement network.
We should expect a reaction from both companies in the coming days or weeks. The impending reaction might give us an idea of what they plan on doing.