A finding from an online ad network Chitika confirms the importance of SEO for online businesses. According to the findings in the study, the top listing in Google search result receives 32.5 % of the traffic compared to 18 % by the second position. Third position gets about 11.4% of the traffic, and it only declines from there. It drops to below 1% from the 12th listing. The same trend was also observed between the relative positions in each respective page, says the report.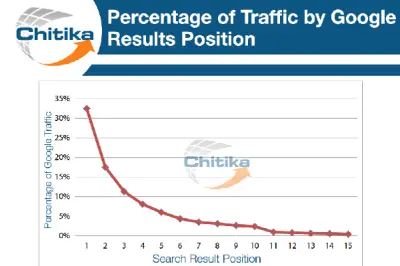 A similar study from Chitika back in May 2010 revealed similar results, but the comparison also confirms that Google search algorithm has changed hundreds of times since then. Chitika examined tens of millions of online ad impressions and was able to measure what percentage of traffic comes from each position of the search results page. The study also revealed that there was a significant drop between the last position on a page and the first position on the next page (140% drop from 10th to 11th position and 86% drop from 20th to 21st position).
The drop in the cumulative traffic is even more significant. The first Google search page generated 92% of the traffic from an average search, and it dropped by 95% to 5% for the second page. The third page generated only 1.1 % of the traffic, and it dropped to below 1% from the fourth page onwards.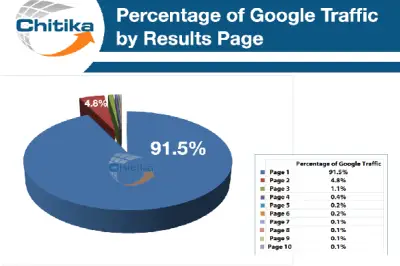 Chitika concluded the study by adding:
While being the number one result on a Google search results page is obviously important, these numbers show just how big of an advantage websites of this type have over any competitors listed below them. The importance of SEO for online business is seemingly quantified by these latest statistics, which, judging by their similarity to those observed as part of the 2010 study, are not likely to change significantly in the near future.
A similar 2011 study by Slingshot SEO was done on both Google and Bing in which it analyzed the user behavior of more than 170,000 users. This study confirmed that the Google's Click-Through Rate (CTR) or the percent of total clicks for the first rank is 18.2%, which dropped to 10% for the second rank and 7.22% for the third rank. Comparatively, Bing received an average CTR of 9.66% for the first rank. Combined, both Google and Bing control 95% of all search engine queries.