The new version of Google Chrome – Chrome 70 for Windows is out. Surprisingly, the latest iteration allows users to install Progressive Web Apps on their Windows 10 devices. The change in scheme envisions something more remarkable. Even though the growth of the mobile system has seen a rapid surge in recent years, the Desktop ecosystem continues to stay relevant. More importantly, it still remains a preferred choice for completing daily tasks at home and at work.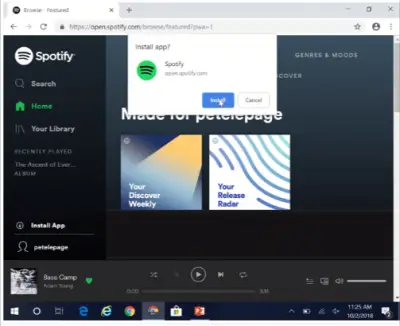 Google Chrome 70 ships with many improvements
Desktop progressive web apps can be 'installed' on the user's device much like native apps. They're fast. Feel integrated because they launched in the same way as other apps, and run in an app window, without an address bar or tabs. They're reliable because service workers can cache all of the assets they need to run. And they create an engaging experience for users, mentioned Pete LePage, a Developer Advocate.
If you have the latest build of Chrome installed, you can install Progressive Web Apps from the Chrome menu and see their install progress appearing in the Windows 10 Start Menu. When finished, you can launch or run the apps via the Start menu.
In addition to the above, Chrome 70 is rolling out to users with some more robust security improvements. To find what's new, you can tap on three dots button and select 'Help' to learn more About Google Chrome and check for the latest updates.
Lastly, a few weeks ago, we had learned Google had made a hostile change to the 'Privacy' settings. It enabled Google to automatically log in users into the Chrome browser when they signed into some Google service. The move drew criticism from all corners. So, responding to the blowback, Google decided to provide an option to stop the linking of web-based sign-in with browser-based sign-in in the new update.