Google has introduced a change in its Chrome browser. The change makes Audio run in a separate process on Windows and other platforms. You can observe and verify it by locating "Utility: Audio Service" under Chrome Task Manager while playing an audio or video file in the browser.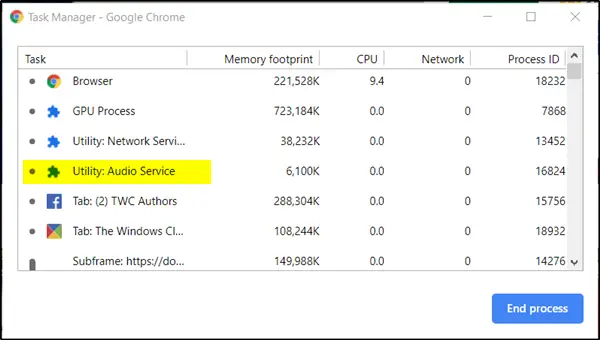 Chrome runs audio in a separate process
If you are not aware, Utility: Audio Service is just a service that runs to play audio on the browser. Something like Utility: Network Service that uses separate processes to improve security. So, when a tab crashes or something goes wrong, the whole browser doesn't crash.
Earlier, the audio process in Chrome was part of the browser process. As such, whenever there was a minor glitch in the audio or something went wrong, the tab automatically got closed, or the whole browser crashed.
With this new change, if the browser experiences any issue with the audio process, it will simply restart the process without interfering with the browser functioning
To see and verify this change, simply visit YouTube or another similar website by opening it in a separate tab in Chrome.
Then, go to 'Menu', choose 'More Tools' and select 'Task Manager' option.
Alternatively, you can press Shift+Esc to open Chrome's Task Manager. When it opens, look for Utility: Audio service.
The change in scheme, i.e., moving the audio platform to a separate process is intended to enhance browser stability and offer superior performance by isolating the browser process from audio driver faults.
The update has been rolled out for the browser (starting from Chrome v76). It should install automatically.
If you can't see it, you can force the install by updating to the latest version or going to 'Menu', choosing 'Help' and selecting 'About Chrome' option.