Chrome is on a gallop and has overtaken Firefox in South America and is running neck-to-neck in UK.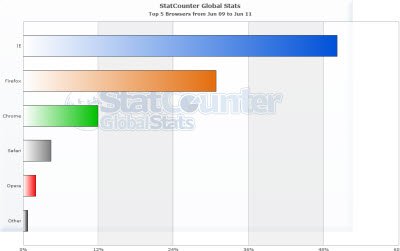 StatCounter is reporting that Chrome now has a global market share of 20.7%, Internet Explorer 44% and Firefox 28%. Safari is at 4.42% and the once popular Opera is languishing at 2%.
In the US Chrome has a share of 16%, IE 46.5% and Firefox 24.7%.
Chrome had a 3% market share around 2 years back and the growth in its adoption is pretty impressive.
One wonders what could be the reason for Chrome's phenomenal growth! What do you think?