Adobe and Google are together simplifying the way users create, convert, compress, sign, and design PDF documents using your web browser. Recently, Google Registry announced a .new domain extension. A lot of companies including Spotify, Medium, and now Adobe have joined this new initiative.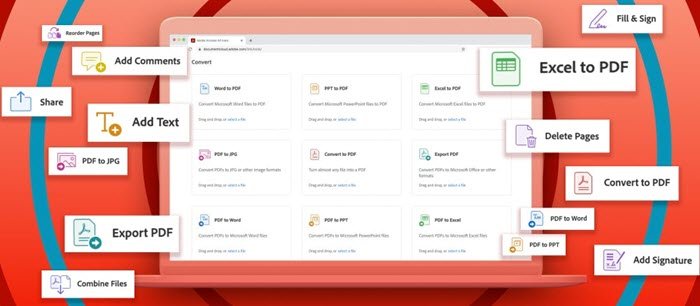 Convert, compress, sign PDF documents online free
Adobe too has joined up and is now making it easier to do more with PDFs in your browser. Users can not only create PDF documents easily but they can also sign them, compress PDF documents, and convert the existing images to PDF documents within seconds.
"We're launching a plethora of free PDF actions this year – giving everyone access to 20 free, super simple Acrobat online tools in 2020," said Lisa Croft, Director of Digital Media Product Enablement at Adobe. Launching 20 super simple free PDF actions in 2020 is no small feat, but we're up for the challenge.
Visit any of these websites to work on your PDFs free:
PDF.New website makes it easier to convert to PDF. All users need to do is select and upload a Microsoft Word, Excel, PowerPoint, or image file (JPG, PNG, TIFF) to convert to PDF.
Sign.New on the other hand, allows users to add text boxes, checkmarks, and your signature or initials to PDF documents. Once you create a signature, you can add it anywhere in the PDF file.
JPGtoPDF.New will convert a JPG to a PDF. Adobe has its extension-specific PDF conversion short link. PDF conversion supports a whole host of image and document formats including DOCX, DOC, XLSX, XLS, PPTX, PPT, JPG, PNG, TIFF, and BMP.
CompressPDF.New allows users to compress PDF documents.
Create.New domain is the destination of Adobe Spark Post. It allows users to create content that works best for social media audiences.
Adobe Online Web Tool
Acrobat Online gives you access to both free and premium tools for PDF right in your browser. Just sign in with a free Adobe ID. Acrobat online lets you convert Microsoft Office and image files to PDF, request electronic signatures from anyone, send a contract, permission slip, etc. Take a look at it here.
Meanwhile, you might want to also check out Google's whats.new page for more about the ".new" domains.