And here we are! The 2011 Scripting Games are coming! Beginning on April 4, 2011 and running through April 15, 2011.  Scripting Games are the premier learning event of the year for IT Pros and others who wish to master Windows PowerShell.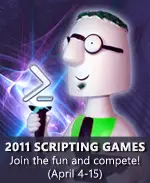 Comprising 10 events, a registered contestant has seven days to create a solution to a scenario driven problem and post their code to a MVP maintained script repository for evaluation by a panel of internationally recognized judges. Daily leaderboards and prize drawings help to maintain the suspense throughout the two-week international event.
During the 2011 Scripting Games hundreds of contestants will submit thousands of scripts that will be reviewed by dozens of judges.
Hundreds of thousands of spectators from all around the world will view the games themselves. Last year, participants from more than 100 countries participated in the Scripting Games. With an emphasis on real world scripting scenarios and problems, the scripts will be of immediate value to both the participants and to the spectators.
The Microsoft Script Center helps people learn to use Windows PowerShell and VBScript to reduce time spent performing mundane tasks. The guys behind the Script Center, Scripting Guys, also author the Hey! Scripting Guy blog. Incidentally, last year, towards the end of 2010 Scripting Games, I had a fun chat on my show with the Scripting Guys – Craig Liebendorfer and Ed Wilson. Click here to listen it.
The 2011 Scripting Games all in one page is the portal for the games themselves. Past Events: 2010 | 2009
You might want to also check out this Windows PowerShell Scripting Guide from Microsoft!