A job posting on the Microsoft Career website reveals, the software-giant is mulling to develop a consumer version of its Microsoft 365 bundle. The company, however, is yet to announce it publicly.
Microsoft 365 bundle for consumers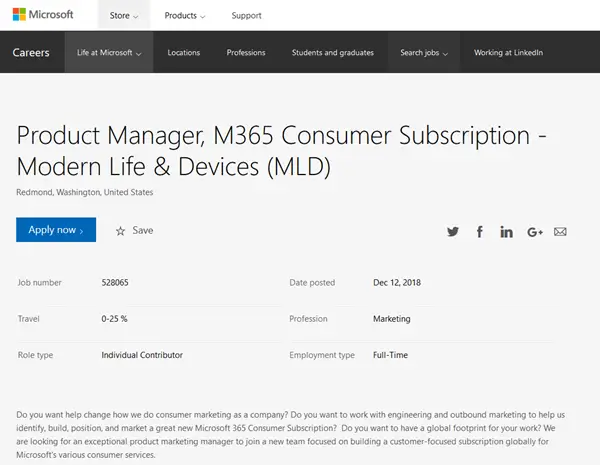 The news broke when a veteran Microsoft observer spotted the posting on the Microsoft Careers website. While it's not entirely clear what services the new subscription model would include, reports suggest that we could see a mix of Windows 10, Skype, Outlook Mobile, Office 365, and/or other services. We are saying so since the details are non-existent right now.
Having said that, the job posting confirms in real that Microsoft is planning to make Microsoft 365 subscriptions available to consumers.
Do you want to work with engineering and outbound marketing to help us identify, build, position, and market a great new Microsoft 365 Consumer Subscription?
Currently, Microsoft 365 is an enterprise exclusive product, offering a combination of products like Office 365, Windows 10, and Enterprise Mobility + Security. Office 365 is already much popular among consumers since it packs a lot of features and offered at an attractive price. So, it'll be interesting to see just what Microsoft comes up with in the new bundle.
Home-oriented Office 365 subscriptions have been embraced warmly by the public and become much popular with over 32.5 million subscriptions worldwide. Microsoft intends to replicate the same success with a Microsoft 365 subscription aimed at non-corporate users.
As mentioned earlier, there's no clear word from the officials of Microsoft and so the time is ripe for speculations. Many predict Microsoft could also include subscription hardware (Xbox) in the deal as it is one area where Microsoft sells subscriptions. Not to forget, Microsoft has in the past sold subscription bundles that include Xbox Gold.