Microsoft in the BUILD 2015 conference, demonstrated an interesting feature called Continuum for Phones that turns Windows 10 Phone into a PC. In one of the keynotes of BUILD event, Continuum was demonstrated on a smartphone, powered by Windows 10, that was shown connected to a large display via HDMI, and other input peripherals like keyboard and mouse via Bluetooth.
Continuum feature in Windows 10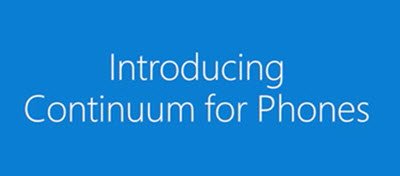 The Continuum mode was first unveiled in a Windows 10 event on January 21 where the ability for tablets to connect to larger screens and input peripherals to act as a computer was demonstrated. In yesterday's BUILD event, Joe Belfiore of Microsoft  showcased similar features on phone.
Applications like Microsoft Excel and Photos running on Windows 10 smartphone, were hooked up to a monitor and the apps got adopted to the traditional desktop view as soon as the peripherals were connected.
PowerPoint and Excel apps present on the phone were scaled to the big layout of the connected screen. This would certainly gives the user more flexibility to work. This type of dynamic behaviour, not only extends to the interface changes, but also effectively manages the change in input paradigm. Devices would change their preferred input mode or interface to suit the peripherals that are connected to a device.
Joe also showed that any content can be copied from phone-centric apps like Messaging and can be pasted into desktop apps. This is possible as the applications developed for Windows 10 would be Universal applications that can scale from your phone, to your tablet, to your computer or to your television.
Joe Belfiore of Microsoft said,
What we're trying to show here today, is our unique vision for phones and enabling them to scale up to a full PC-like experience
He also revealed the continuum would require new devices capable of driving dual-screen feature.
The demonstration of the continuum feature in Windows 10 Phone is shown in this video: