Security vendors, Financial institutions, online search, and advertising businesses and Law enforcement have come together to form Coordinated Malware Eradication, with a view to eradicate malware. This one-of-its-kind initiative aims towards bringing various organizations in the field of cyber security as well as other companies together so as to build effective protective measures against malware.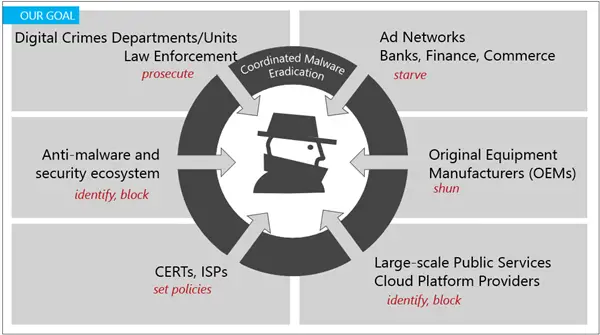 Coordinated Malware Eradication
Regarding the Coordinated Malware Eradication program, Microsoft mentions that,
"CME calls for organizations to pool their tools, information and actions to drive coordinated campaigns against malware. The ultimate goal is to drive efficient and long lasting results for better protection of our collective communities, customers, and businesses."
Microsoft had already published an introductory blog on Coordinated Malware Eradication. In this blog, Microsoft explains that if we want to change the game of malware, then we must change the way we work.
Under this program, Microsoft suggests that to eradicate the malware ecosystem, the antimalware ecosystem has to work hand-in-hand. The antimalware ecosystem consists of many strong and efficient groups such as law enforcement, anti-fraud departments, CERTs, service providers and security vendors.
However, since these groups don't work together, their strength remains limited and the malware authors get a chance to attack different groups with some or other weakness. In fact, if a malware is shut down by certain security provider, the malware authors learn the need for continuity and resiliency.
Under the Coordinated Malware Eradication, all these strong antimalware groups work together towards single aim, and it is to eradicate the malware. Regarding this program and the combined efforts in it, Microsoft further says that:
"Diversity of participation across industries and disciplines, extending beyond cybersecurity, makes eradication campaigns even stronger across the malware lifecycle. For instance, while security vendors, computer emergency response/readiness teams (CERTs) and Internet service providers (ISPs) can contribute with malware telemetry, online businesses can identify fraudulent behavior, and law enforcement agencies can drive legal action."
The Coordinated Malware Eradication or CME is certainly a great program to eliminate the malware from. Microsoft has requested the organizations across the globe to join CME by enrolling in the Virus Information Alliance (VIA) program. You can read more about this at the MMPC site.