CRDF Threat Center, a security firm headquartered in Paris, is a non-commercial community project that creates statistics for various popular antiviral products, daily based on their effectiveness. Every day they release a quick opinion on the detection rates of various antivirus products. The report is generated by subjecting the collected database of viruses, to scanning from different security software. The data generated from it is used to evaluate performances of various antivirus products for the day. This can be viewed as a creative effort for creating a suite that adapts to a rapidly changing threatscape.
Samples of the database taken are the most recent ones and are scanned with the latest update of antivirus products. However, the test is done solely for informational purposes and is completely different from those offered by official bodies.
As per the latest test conducted by CRDF puts ESET Antivirus at top. The test report shows ESET NOD 32 has the most successful detection rate. See the screenshot below.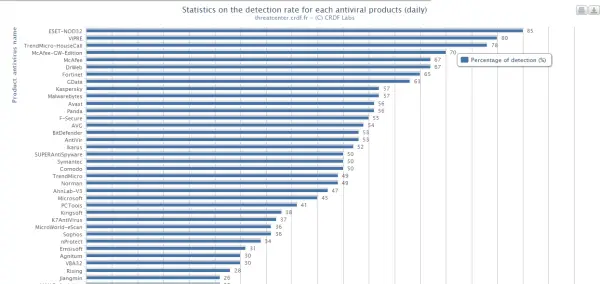 This test is updated every day at two o'clock in the morning on a sample of about 1000 threats. For more information, visit CRDF Threat Center.