Although Windows Phone updates claim to make your phone better, they are sometimes plagued with unforeseen issues. For instance, there was an issue with Microsoft Lumia 930 that would cause the smartphone to periodically reboot it in certain circumstances. Fortunately, Microsoft seems to have taken the cognizance of the issue and get it fixed as soon as possible.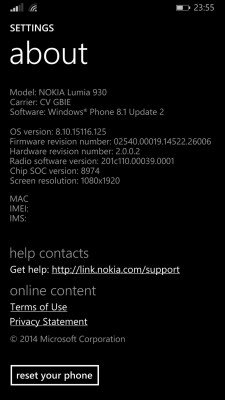 Critical Update for Lumia 930
Lumia 930 users reported that the phone restarts itself when browsing the gallery. This was not the only scenario in which the smartphone reboots spontaneously. As the complaints poured in, Microsoft rolled out an update and pushed it OTA (over the air) in stages to all Lumia 930 devices. The changelog confirmed the update was an important update to fixes the nagging issue that may cause the device to periodically reboot. It was unclear if this was a widespread issue or not but the company was prompt in action.
It informed Lumia owners about the rollout of the update on its support forum, failing to offer much details on the matter apart from the advisory:
If you get a critical or important update notification on your phone, we're letting you know that there's an important update that will fix a particular problem. We recommend that you install any critical updates immediately.We identified a problem in some versions of Windows Phone 8.1 that could cause a phone to restart periodically. A critical update will fix this problem.
Keep in mind that after you successfully capture and install the update your OS version should be 8.10.14226.359, while the firmware revision number should read 02540.00019.14522.26006.
Microsoft strongly recommends to download and install the critical update. Lumia 930 owners can check for it via Settings / Phone updates, if they haven't been notified on the update yet. Apart from the fix for the random reboot problem, there are no other changes included in the update.