Every week hundreds of thousands of new samples of malware are reported. New variants continue to evolve daily. New data at Microsoft reveals that the Java environment has favored the growth of malware, the most. Even if your system was up-to-date, an unpatched vulnerability in the Java environment could lead to a disaster. Java vulnerability was behind found almost every other day and fixes released soon thereafter. The only way to then stay safe was to either disable Java or remove it completely from your computer. Recently, updated data at Microsoft showed up the prevalence of Java malware in 2012.
Java Malware Prevalence in 2012
According to Microsoft Security Intelligence Report there was a decline in Java malware detections in Q3 2012, but then there was a late surge in malware infection in the last quarter of 2012. If that wasn't it, the report found during a later review of the backend data, it had missed some detection counts from its initial calculations. As such, the data was revised.
You can get an overview of the report from the image below.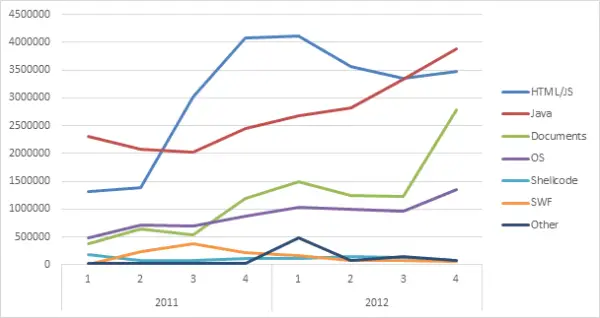 In the next image or graph you can see the breakdown of individual Java exploits. For your information, an exceptional rise in Java malware activity was seen last year as it had high success rate in exploitation. On most occasions  Java vulnerabilities were adopted by malware writers after the updates from the Oracle were released.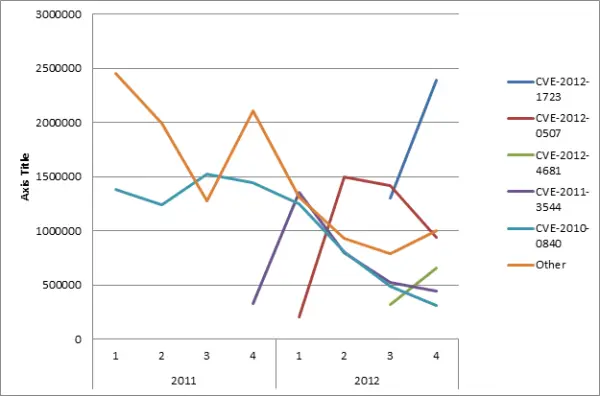 In 2012, 4 different kinds of Java vulnerabilities were found. Only one out of these four vulnerabilities was a 0-day. Three out of four vulnerabilities were used when there were updates available at the time of the outbreak.
CVE-2012-1723
CVE-2012-0507
CVE-2012-4681
CVE-2012-5076
The first half of the year was dominated by malware abusing CVE-2012-0507. Later, malware exploiting CVE-2012-1723 vulnerability overtook the former in August 2012. After that two new vulnerabilities, CVE-2012-4681 and CVE-2012-5076, were discovered.
This shows Java remained as the most favored environment for malware developers to exploit and continue their dirty work.